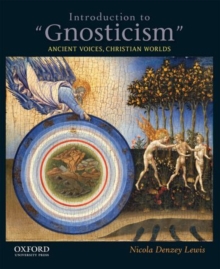 Introduction to "Gnosticism" : Ancient Voices, Christian Worlds
Paperback / softback
Description
Discovered in Egypt in 1945, the fascinating and challenging Nag Hammadi writings forever changed our understanding of early Christianity.
State-of-the-art and the only volume of its kind, Introduction to "Gnosticism": Ancient Voices, Christian Worlds guides students through the most significant of the Nag Hammadi texts.
Employing an exceptionally lucid and accessible writing style, Nicola Denzey Lewis groups the texts by theme and genre, places them in thebroader context of the ancient world, and reveals their most inscrutable mysteries. Ideal for use in courses in Early Christianity/Origins of Christianity, Christianity to 1500, Gnostic Gospels, Gnosticism, Early Christian Writings, Orthodoxy and Heresy, and New Testament Studies, Introduction to "Gnosticism" is enhanced by numerous pedagogical features, including images of the manuscripts, study and discussion questions, annotated bibliographies, tables, diagrams, and a glossary.
Free Home Delivery
on all orders
Pick up orders
from local bookshops