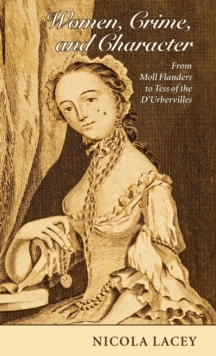 Women, Crime, and Character : From Moll Flanders to Tess of the D'Urbervilles
Hardback
Description
In the early 18th Century, Daniel Defoe found it natural to write a novel whose heroine was a sexually adventurous, socially marginal property offender.
Only half a century later, this would have been next to unthinkable.
Lacey explores the disappearance of Moll, and her supercession in the annals of literary female offenders by heroines like Tess, serving as a metaphor for fundamental changes in ideas of selfhood, gender and social order in 18th and 19th CenturyEngland.
Drawing on law, literature, philosophy and social history, she argues that these broad changes underpinned a radical shift in mechanisms of responsibility-attribution, with decisive implications for the criminalisation of women. This book examines how the treatment and understanding of female criminality was changing during the era which saw the construction of the main building blocks of the modern criminal process, and of how these understandings related in turn to broader ideas about gender, social order and individual agency. Lacey tells the story of the shifting relationship between informal codes of norms such as the 'cult of sensibility' and the formal system of criminal justice, and of the impact on women andon understandings of femininity of these complementary systems of discipline. By drawing on a wide variety of sources, it casts light into corners which remain obscure in accounts informed by a single discipline.
Free Home Delivery
on all orders
Pick up orders
from local bookshops
Also in the Clarendon Law Lectures series | View all