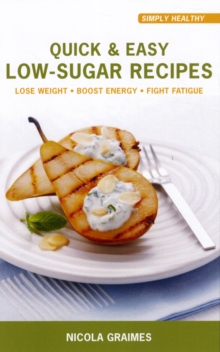 Quick and Easy Low-sugar Recipes : * Lose Weight * Boost Energy * Fight Fatigue
Paperback / softback
Description
Eating low-sugar foods doesn't have to mean being condemned to a dull diet, as the wonderful range of recipes in this book amply demonstrates.
The good news is that there are numerous naturally sweet foods and different flavourings that can be substituted so that there's no need to resort to artificial sweeteners with their reported adverse health effects.
One hundred easy-to-follow recipes are divided into Breakfasts & Brunches, Lunches & Dinners, with special extended chapters featuring low-sugar versions of those notoriously sugary Teas & Snacks and Desserts.
You'll find delicious family favourites such as fruit crumbles, sponge puddings, biscuits and cakes.
Savoury foods can also be surprisingly high in added sugar, particularly canned foods and sauces, and you'll find specially adapted recipes for healthier, low-sugar alternatives.
All recipes have been carefully created to be suitable for diabetics to meet their dietary requirements.
This means that the recipes are also low in salt and saturated fat and high in unrefined carbohydrates and fibre - not forgetting packed with bountiful amounts of fresh produce. Clear at-a-glance symbols highlighting nutritional benefits provide an additional valuable feature.
Information
Format: Paperback / softback
Pages: 192 pages
Publisher: Watkins Media
Publication Date: 07/01/2010
Category: Health & wholefood cookery
ISBN: 9781906787615