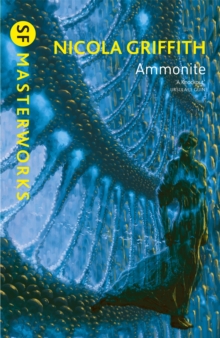 Description
The James Tiptree Jr Award-winning novel. Change or die. These are the only options available on the planet Jeep.
Centuries earlier, a deadly virus shattered the original colony, killing the men and forever altering the few surviving women.
Now, generations after the colony has lost touch with the rest of humanity, a company arrives to exploit Jeep - and its forces find themselves fighting for their lives.
Terrified of spreading the virus, the company abandons its employees, leaving them afraid and isolated from the natives.
In the face of this crisis, anthropologist Marghe Taishan arrives to test a new vaccine.
As she risks death to uncover the women's biological secret, she finds that she, too, is changing - and realizes that not only has she found a home on Jeep, but that she alone carries the seeds of its destruction ...
Information
Format: Paperback
Pages: 416 pages
Publisher: Orion Publishing Co
Publication Date: 01/09/2012
Category: Science fiction
ISBN: 9780575118232
Free Home Delivery
on all orders
Pick up orders
from local bookshops
Reviews
Showing 1 - 1 of 1 reviews.
Review by SandDune
16/06/2015
The planet of Jeep was settled hundreds, maybe thousands, of years ago, and then forgotten (never really explained why). But when it's rediscovered by representatives of the Company, who intend to exploit the planet's resources, the population is discovered to be wholly female. And after six months of so the new exploratory expedition discover the reason: one by one they start to develop an unknown disease which kills all the men, and nearly a quarter of the women, with the survivors unable to leave the planet as they remain infected by the virus. After five years for the survivors the situation remains almost unchanged: they remain isolated from the original inhabitants who they consider primitive 'natives'. And they still have no idea how those original inhabitants manage to have children.Into this world comes Marghe, an anthropologist who has volunteered to test a vaccine against Jeep's virus. But her efforts to investigate some of the mysteries of Jeep's society goes horribly wrong as she is taken prisoner by the Echraidhe who live in one of the most hostile environments that Jeep has to offer. And back at the Company settlement Commander Danner must deal with her increasing suspicions that the Company's plans for Jeep do not include rescuing their stranded staff.A fun book this, which deals with the creation of all female societies very well. It lost me a little bit towards the end as it seemed to be getting almost a little mystical at times (I prefer my science-fiction to be sciency), but a good read nonetheless.
Also in the S.F. Masterworks series | View all