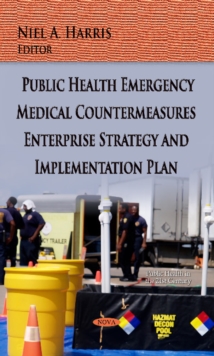 Public Health Emergency Medical Countermeasures Enterprise Strategy & Implementation Plan
Paperback / softback
Description
The United States continues to face a range of serious threats to its national health security from the deliberate use or accidental release of chemical, biological, radiological, and nuclear (CBRN) agents, as well as from naturally occurring and emerging infectious diseases, including pandemic influenza.
A failure to anticipate these threats -- or the lack of a capacity to effectively respond to them could leave an untold number of Americans dead or permanently disabled.
The United States must therefore have the nimble, flexible capability to produce and effectively utilise medical countermeasures in the face of any attack or threat whether known or unknown -- novel or re-emerging -- natural or intentional.
In addition, these capabilities must be communicated to the American public both before and during an emergency.
The Secretary of Health and Human Services (HHS) leads all Federal public health and medical response to public health and medical emergencies covered by the National Response Framework.
Effectively fulfilling this responsibility and accomplishing these goals necessitates co-ordination of medical countermeasure-related activities occurring across multiple Federal departments.
To provide this co-ordination, HHS established the Public Health Emergency Medical Countermeasures Enterprise (PHEMCE) in July 2006 to co-ordinate Federal efforts to enhance civilian preparedness from a medical countermeasure perspective.
The PHEMCE is charged with addressing the needs to produce and make medical countermeasures available to limit potential adverse health impacts on the large and diverse U.S. civilian population. The PHEMCE is working to meet the public health emergency needs of the entire civilian population, including groups that require special medical considerations, such as children and the elderly, as well as for first responders, health personnel, and other critical infrastructure personnel, by taking a "whole of community" approach in planning, response, and recovery efforts.
Information
Format: Paperback / softback
Pages: 112 pages
Publisher: Nova Science Publishers Inc
Publication Date: 04/11/2013
Category: Social impact of disasters
ISBN: 9781628088618
Free Home Delivery
on all orders
Pick up orders
from local bookshops