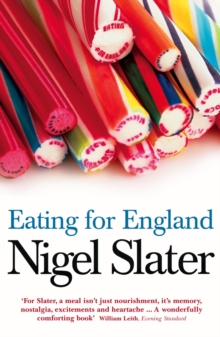 Eating for England : The Delights and Eccentricities of the British at Table
Paperback
Description
Written in a style similar to that of Nigel Slater's multi-award-winning food memoir `Toast', this is a celebration of the glory, humour, eccentricities and embarrassments that are the British at Table. The British have a relationship with their food that is unlike that of any other country.
Once something that was never discussed in polite company, it is now something with which the nation is obsessed.
But are we at last developing a food culture or are we just going through the motions? `Eating for England' is an entertaining, detailed and somewhat tongue-in-cheek observation of the British and their food, their cooking, their eating and how they behave in restaurants, with chapters on - amongst other things - dinner parties, funeral teas, Indian restaurants, dieting and eating whilst under the influence. Written in Nigel Slater's trademark readable style, `Eating for England' highlights our idiosyncratic attitude towards the fine art of dining.
Information
Format: Paperback
Pages: 320 pages
Publisher: HarperCollins Publishers
Publication Date: 02/06/2008
Category: Food & society
ISBN: 9780007199471
Other Formats
EPUB from £4.99
Paperback from £6.99
Free Home Delivery
on all orders
Pick up orders
from local bookshops
Reviews
Showing 1 - 5 of 7 reviews.
Previous | Next
Review by cherien
16/06/2015
Interesting snippets of thought. I recommend this to people with a headcold or a hang over - the brief writings are very suited to someone with an impaired attention span. But very enjoyable all the same.
Review by elliepotten
16/06/2015
I loved this book! It's everything I wanted, but sadly didn't get, from 'Toast', Slater's much-lauded autobiography. Although the format is similar, 'Toast' veered into pretension towards the end and left a sour taste in my mouth, bringing together otherwise pleasant food memories with an altogether more unsavoury sort of anecdote. 'Eating for England', on the other hand, is just plain delicious!It is split into tiny mini-essays, ranging from a few lines to a couple of pages, each celebrating an aspect of British cuisine. Whether he's commenting on modern cookery habits or extolling the virtues of some traditional teatime treat, Slater's love of food floods every page with warmth, and his humour and pitch-perfect observations made me smile in recognition. From the first crack of an After Eight to the colourful splendour of a farmer's market, chips and seaside rock on the pier to a strawberry picnic, the modern Jamie Oliver-inspired Man in the Kitchen to that annoying woman at the supermarket who insists on using every voucher she's collected that week, there's something for everyone here! And of course, toast once again features several times, in all its many guises and delights...Highly recommended for food lovers and nostalgic souls, not to mention non-Brits who are downright confused by all the strange names, regional variations, and clashes of terminology between Britain and Everywhere Else! My advice? Make yourself a large mug of tea and a slice of cake, curl up in a cozy armchair, and enjoy...
Review by rightantler
16/06/2015
Nostagic and bite sized, good fun if a little repetitive in parts
Review by Oreillynsf
16/06/2015
For me, this collection of short essays was a bit of a disappointment. But perhaps a Brit would appreciate it more deeply than I could. The writing is strong, and the ideas focused and complete. I just couldn't connect with it.
Review by mstrust
16/06/2015
A thick book of short essays about British foods that Slater grew up with, or his parents did and his observations about newer choices in the market. I had a hard time putting it down, as this book explains what barley water, treacle tart or good Lord, spotted dick, are, as you hear them mentioned in a movie or a book and wonder. Slater also writes about many British treats that are now extinct or on the verge and manages to bring his grumpy father and racist aunt into his food memories. A must for Anglophiles or foodies.