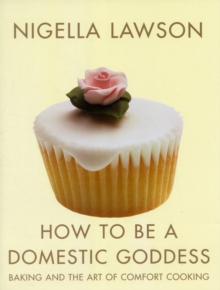 How to be a Domestic Goddess : Baking and the Art of Comfort Cooking
Paperback
Description
How to be a Domestic Goddess is not about being a goddess, but about feeling like one.
What this deliciously reassuring and mouthwatering cookbook shows is that it's not hard to bake a tray of muffins, or a sponge layer cake - but the rewards are high.
Here is the book that feeds our fantasies, understands our anxieties and puts cakes, pies, pastries, preserves, puddings, bread and biscuits back into our own kitchens.
With a writer's flair and a cook's passion, Nigella brings you everything from brownies to bagels, from gooseberry-cream crumble to double apple pie, from pizza to pistachio macaroons, from festive bake to Barbie cake.
Information
Format: Paperback
Pages: 384 pages, over 90 colour illustrations
Publisher: Vintage Publishing
Publication Date: 02/10/2003
Category: Cakes, baking, icing & sugarcraft
ISBN: 9780701171087
Free Home Delivery
on all orders
Pick up orders
from local bookshops
Reviews
Showing 1 - 4 of 4 reviews.
Review by Eloise
16/06/2015
I am obsessed with this book, no other baking recipes seem quite right if there's an alternative in here. The brownies are wonderful and I've been banned from using anything other than a Nigella recipe to make them. I love to read it too, it's comfort reading, as well as comfort cooking.Nigella doesn't make you feel inadequate for not being perfect, which with my cooking attention span is a good thing. Also she's not ridiculously pefectionist about ingredients, but encourages experimentation, which I love.
Review by EvaElisabeth
16/06/2015
Comfort food from the oven everything from fairy cakes to steak and kidney pudding
Review by Naranja
16/06/2015
The sweet recipes are wonderful, the pictures gorgeous and Nigella's style of writing is adorable; the recipes are really well explained, too. However, I tried two of the bread recipes and had to seriously alter the baking temperatures and times. Well, I'll stick to the sweet recipes:-)
Review by laraloola
16/06/2015
I'm sorry this is going to sound like a gushing fangirl, but I love this book so much. Even though I'd cooked before (my mum is a cookery teacher I was hardly going to get away with not cooking), it is Nigella's How to be a Domestic Goddess that made me love it. Prior to this book the only cookery books I owned were those that my mother had foisted on me fearing that I might starve if she didn't, and were a bit on the dull side (my excuse for living on sandwiches for 3 years). Then I found myself staring daily at this as it was sat on a shelf, on offer in the bookshop I worked in. Initially it was the cover picture that tempted me into purchase, but once I'd got it home I found myself reading it as I would a novel, something I'd never done previously with a cookery book. Lacking in an actual oven where I lived it took six months before I could actually try it out, but it was worth the wait. Her conversational style may not be everyone's taste, but all my previous books had the aura of a dicatorial school ma'am. I've found all the recipes easy to follow, and have had success with almost everything I've tried. My only failure was a courgette cake which was because I lacked the correct size pan and it ended up burnt on the outside and soup like in the middle. The size of tins would probably be my only criticism, I had to search high and low for some of the tin sizes, and lacking as I am in Nigella's budget I've had to restrict myself to only a few.However, overall I adore this book,and it opened the floodgates for my ever growing cookery book collection.