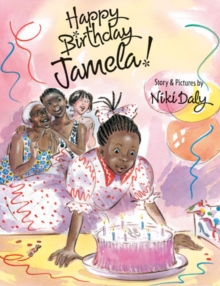 Happy Birthday, Jamela!
Paperback
Description
It's Jamela's birthday, and she and Mama are off to buy some new shoes.
As soon as Jamela sees the Princess Shoes with their sparkly buckles and little satin bows, she falls in love with them, but Mama points out that she'll have to wear the shoes for school too, so a sad Jamela ends up with sensible black shoes.
Alone in her room, Jamela tries her best to make the shoes look princessy with beads, glitter and glue.
She only succeeds in making Mama very angry, but a lady called Lilly thinks Jamela's decorated shoes are fabulous.
Information
Format: Paperback
Pages: 32 pages, illustrations
Publisher: Frances Lincoln Publishers Ltd
Publication Date: 01/04/2007
Category: Picture books
ISBN: 9781845074227
Free Home Delivery
on all orders
Pick up orders
from local bookshops
Reviews
Showing 1 - 2 of 2 reviews.
Review by conuly
16/06/2015
Very true to life! It's very realistic, and very loving and sweet.Jamela needs new shoes to go with her new birthday dress.Well, shoes are expensive, so her mother sensibly nixes the pretty white ones in favor of the black ones suitable for school. Guess who's not happy about that?Of course, nothing is too much of an obstacle for a kid with a bright idea. She'll just make her school shoes pretty! Now her mother's the unhappy one, right?Luckily, there's a happy ending - Jamela makes more of her special shoes, sells them at a profit, gives the money to her mom to pay her back for the ruined school shoes, and gets new school shoes for her birthday (she was politely "surprised") and... the not-so-sensible white ones as a *real* surprise.I can see this happening in my own life, too. It's very true-to-life, I can't recommend it enough.
Review by TirzahB
16/06/2015
Summary: Jamela is having a birthday, and her and her mother and her grandmother take her shopping to find some birthday shoes and a birthday dress, at the shoe store jamela find princess shoes that she wants very bad. Jamela's mom tells her no because she need something that she can also ware to school , when Jamela comes home she takes her plain black shoes and decorates them with pretty beads and sparkly things, when Jamela shows he mother , her mother gets very angry. Jamela finds her friend miss lily and miss lily tells her that she loves her shoes and ask her can she make some more so that she can sell them at her stand jamela does and she makes a lot of money. jamela gives the money to her mother and her mother is proud. the day a Jamela's party she gets a surprise gift and when she opens it ti was the princess shoes that she wanted very bad , her mother tells her that the shoes were paid for by her own money. Personal Reaction:I liked this book because it reminded me of when I was a child on my birthday, and i wanted something so bad but I had to wait because it cost too much money.Classroom extension:1.I can have the children decorate their own version of Jamela shoes, and have them put a price on what they would sell them for2. I will give the children play money and have them try and buy things out of my class store that are too expensive and teach them to save money to buy what they want, in order to teach them the value of money.