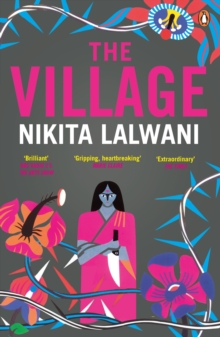 Description
The Village by Nikita Lalwani is a disturbing and utterly gripping modern morality tale set in contemporary India.On a winter morning Ray Bhullar arrives at the gates of an Indian village.
She is here to make a film. But this will be no ordinary tale about India - for this is no ordinary village.
It is an open prison, inhabited by murderers. An apparent innocent among the guilty, Ray tries hard to be accepted.
But the longer she and the rest of the crew stay, the more the need for drama increases.
Soon the fragile peace of the village will be shattered and, despite Ray's seemingly good intentions, the motives of the visitors and the lives of the inhabitants will be terrifyingly, brutally exposed.Praise for The Village:'A thoughtful novel that envelops us in the oppression and beauty of the rural prison . . . each voice is distinct, believable and stubborn in its refusal to be easily known.
Touchingly evocative' Financial Times'Thoughtful, beautifully written.
A candid exploration of journalistic ethics' Observer 'A masterclass.
The inmates' stories evoke larger questions about justice and privacy, power and powerlessness' GuardianNikita Lalwani was born in Rajasthan and raised in Cardiff.
Her first novel Gifted was longlisted for the Man Booker Prize and shortlisted for the Costa First Novel Award and won the Desmond Elliott Prize.
She lives in London.
Information
Format: Paperback
Pages: 256 pages
Publisher: Penguin Books Ltd
Publication Date: 25/04/2013
ISBN: 9780141030401
Free Home Delivery
on all orders
Pick up orders
from local bookshops
Reviews
Showing 1 - 1 of 1 reviews.
Review by bitter_suite
16/06/2015
While I read all of "The Village" by Nikita Lalwani, I was glad when the book ended. I didn't really connect with any of the main or secondary characters. I wasn't indifferent, but I wasn't really invested either. Nathan and Serena got on my nerves. I never liked them. Nandini and other prisoners should have inspired pity and other feelings, and they did. But just a little bit. I didn't feel like I knew them well enough to really feel for them. I had the biggest problem with Ray, oddly because I liked her the best. I still wasn't really connected to her, but I wanted her to make the right choices. I enjoyed what she did at the end of the book. However she also got on my nerves. Up until the end she seems to have trouble making firm decisions. She wavered a lot. And I really, really wanted to see her confront Serena and Nathan. Even near the end when Serena practically invites a confrontation Ray says nothing! Why? It was obvious that Ray was annoyed and upset by their words and actions, so why wouldn't she say something? It drove me crazy! Overall, this was definitely not the book for me.