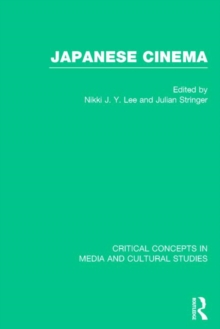 Description
Japanese cinema is historically one of the world's most important national film industries and one that continues to have a significant global influence.
From the Golden Age of the 1930s and the 1950s art-house success of Kurosawa, Mizoguchi, and Ozu to the 1960s New Wave of Imamura and Oshima and the ubiquitous contemporary presence of sci-fi and anime, Japan has produced directors and genres of central importance to the development of cinema as both art and industry.
Indeed, no college or university course on international film history or modern world cinema is complete without substantial reference to Japan's mighty achievements. Despite the crucial contribution of work on Japan to the development of Film Studies as a distinct object of intellectual inquiry, as well as the ongoing vibrancy of Japanese Cinema Studies as a dynamic interdisciplinary endeavour, to date no reference work has gathered all the most important scholarly writings on the topic.
This welcome addition to Routledge's Critical Concepts in Media and Cultural Studies series remedies that omission.
It presents for the first time the most significant English-language work on the history and culture of Japanese cinema. Edited by two leading scholars in the field, this major new reference resource offers a multi-dimensional overview of one hundred years of filmmaking in Japan.
It explores the subject from all key angles, encompassing production and the role of commercial film studios, distribution, exhibition, issues of critical reception, fandom, and the cultural status of cinema as aesthetic medium.
Every major period is represented, including early and silent cinema, the years of empire and war, postwar resurgence and political strife, globalization and multimedia reconfiguration.
In addition, the collection includes consideration of key films and filmmakers, alongside approaches to Japanese cinema's perceived uniqueness and debates on its relation to society, as well as to Hollywood and other film industries.
Contributions are drawn from the various disciplines where the most important work on Japanese cinema has been produced, including Film Studies, Japan Studies, Asian Studies, and Cultural Studies. Japanese Cinema is supplemented by a comprehensive index.
It also includes a full introduction, newly written by the editors, which outlines the various historical contexts for the emergence of mature scholarly approaches to the subject.
Information
Format: Hardback
Pages: 1936 pages
Publisher: Taylor & Francis Ltd
Publication Date: 29/09/2014
Category: Films, cinema
ISBN: 9780415530392
Free Home Delivery
on all orders
Pick up orders
from local bookshops
Also in the Critical Concepts in Media and Cultural Studies series | View all