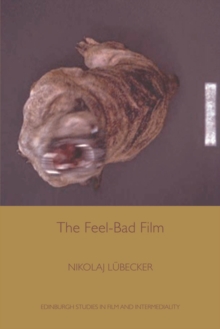 The Feel-Bad Film
Paperback / softback
Description
Presents an analysis of what contemporary directors seek to attain by putting their spectators in a position of strong discomfort.
In recent years some of the best known European and American art film directors have made films that place the spectator in a position of intense discomfort: Feel Bad Films.
How are these unpleasurable viewing experiences created?
What do the directors believe they can achieve via the feel bad experience?
How can we situate the films in intellectual history?
Why should we watch, study and teach feel bad films?
These questions will be answered through analysis of films by directors such as Lars von Trier, Gus Van Sant, Claire Denis, Michael Haneke, Lucille Hadzihalilovic, Brian de Palma, Bruno Dumont and Harmony Korine. Features detailed analyses of the work of some of the best known contemporary art film directors; a stimulating contribution to current debates about the ethics and politics of cinematic spectatorship; the conceptualisation of a cinematic genre that will allow us to reconsider debates about the social potential of film; primary case studies include: Lars von Trier: Dogville (Denmark); Brian de Palma: Redacted (US); Gus Van Sant: Elephant (US); Lucille Hadzihalilovic: Innocence (France); Stan Brakhage: Kindering (US); Ruben Ostlund: Play (Sweden); Bruno Dumont: Twentynine Palms (France); Harmony Korine: Trash Humpers (US); Secondary case studies: Simon Staho: Daisy Diamond (Denmark); Claire Denis: I Can't Sleep (France); Michael Haneke: Hidden (France/Austria); Urszula Antoniak: Code Blue (Holland/Poland) and Claire Denis: The Bastards (France).
Information
Format: Paperback / softback
Pages: 200 pages, 17 colour illustrations
Publisher: Edinburgh University Press
Publication Date: 19/05/2015
Category: Film theory & criticism
ISBN: 9780748697991