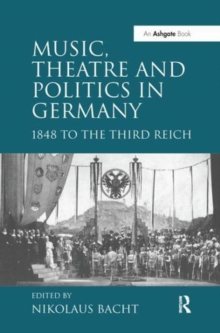 Music, Theatre and Politics in Germany : 1848 to the Third Reich
Paperback / softback
Description
Music, theatre and politics have maintained a long-standing, if varying and problematic, relationship.
In the Ancient World, the relationship used to be a harmonious one, scholars have us believe, glorifying the moment at the beginning of Western history when a political community, or polis, affirmed itself in a practice that purportedly achieved the perfect integration of music and theatre.
To revive this original harmony was, of course, one of the main impulses that engendered the genre of opera.
However, while it is widely recognized that the political represented a prius in the Ancient triangle of music, theatre and politics, there has been little attention to the status of the political in the triangle's modern variety.
Nonetheless, the relationship between the three continues to be strong.
In many contexts, the political still takes priority, encouraging or curbing artistic creativity. The contributions in this volume bridge the conventional chronological division between 'late Romantic' and 'modern' music to thematize a wide array of issues in the context of Germany.
The contributors focus on a national tradition and period in which the friction between music, theatre and politics grew particularly intense.
Major themes include: reception history; the entwining of aesthetic and political intentions on the part of composers, critics and historians; and the construction and/or critique of collective political identities in and through music theatre.
Information
Format: Paperback / softback
Pages: 336 pages
Publisher: Taylor & Francis Ltd
Publication Date: 27/01/2017
Category: Western "classical" music
ISBN: 9781138265011
Free Home Delivery
on all orders
Pick up orders
from local bookshops