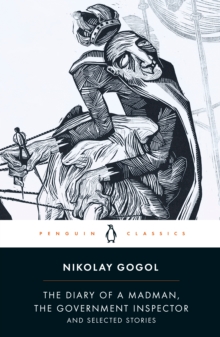 Diary of a Madman, The Government Inspector, & Selected Stories
Paperback
Description
Nikolai Gogol's short fiction, collected here as The Diary of a Madman, The Government Inspector and Selected Stories, deeply influenced later Russian literature with powerful depictions of a society dominated by petty bureaucracy and base corruption.
This Penguin Classics edition is translated with notes by Ronald Wilks, and an introduction by Robert A.
Maguire.This volume includes a selection of Gogol's most admired short fiction and his most famous drama.
A hilarious and biting political satire, 'The Government Inspector' has been popular since its first performance and was regarded by Nabokov as the greatest Russian play ever written.
The stories gathered here, meanwhile, range from comic to tragic and describe the isolated lives of low-ranking clerks, lunatics and swindlers.
They include 'Diary of a Madman', an amusing but disturbing exploration of insanity; 'Nevsky Prospect', a depiction of an artist infatuated with a prostitute; and 'The Overcoat', a moving consideration of poverty.Edited and translated by Ronald Wilks, this new collection of Gogol's shorter writings skilfully captures the savage wit of the original works.
Robert Maguire's introduction considers recurrent themes and explores Gogol's influence on realism.
This edition also includes detailed notes, a publishing history for each story and a chronology.Nikolai Gogol (1809-52) was born in the Ukraine.
His experience of St Petersburg life informed a savagely satirical play, The Government Inspector, and a series of brilliant short stories including Nevsky Prospekt and Diary of a Madman.
For over a decade, Gogol laboured on his comic epic Dead Souls - before renouncing literature and burning parts of the manuscript shortly before he died.If you enjoyed The Diary of a Madman, you might like Anton Chekhov's The Steppe and Other Stories, also available in Penguin Classics.'Everything he started to imagine transformed itself and began to wriggle with life'A.S.
Byatt, author of Possession
Information
Format: Paperback
Pages: 368 pages
Publisher: Penguin Books Ltd
Publication Date: 01/12/2005
ISBN: 9780140449075
Free Home Delivery
on all orders
Pick up orders
from local bookshops
Reviews
Showing 1 - 4 of 4 reviews.
Review by poetontheone
16/06/2015
With Gogol, to say nothing of his friend Pushkin, is the birth of Russia's modern literature containing Dostoevsky, Tolstoy, et. al.His mouth curling satirical fictions give the reader full view to the goings on of civil servants and common folk in nineteenth century Russian society. His realistic narratives are airtight templates for the medium of short fiction, and one can do well to study their composition. From the the outlandish interactions of the titular characters in "How Ivan Ivanovich Quarreled with Ivan Nikiforovich" and the stunning and beautiful realism of romance gone awry in "Nevsky Prospekt", to the grand political jab that is the writer's most famous play "The Government Inspector".It is curious to note that "Diary of a Madman", maybe Gogol's most revered short story, seemed lackluster when compared to the other works found here. What does that matter though, when all the rest is so brilliant? Anyone interested in Russian Literature, or fiction in general, will appreciate the skill of this influential and skilled scribe.I also must note that I prefer these translations of Gogol to those by Pevear and Volokhonsky, who seemed to give his words a dry treatment rather than allow them a certain liveliness that is present here.
Review by carmelitasita29
16/06/2015
A complete delight to read. I thoroughly enjoyed the dark humour, the bumbling Russian departments, the surreal circumstances, and the portrait of the poor in this short story collection. I would have to say my favorite story is "Diary of a Madman." I will be recommending this to my friends.
Review by jenniferthomp75
16/06/2015
Brilliant short story told from the point of view of a man who is slowly going insane.As the diary entries progress, so does the man's insanity. He imagines conversations between dogs (in letter form) and declares himself the new king of Spain. What starts off as amusing, peculiar and a bit hilarious segues into a lonely sadness.Can't wait to see Geoffrey Rush at BAM interpret this role!
Review by Asli_Agaoglu
16/06/2015
If you're one of those folks who asks the question "can this really happen?" while you read, then I don't recommend this book... But if you like "weird" and "unconventional", like a nose that one day decides to detach itself from the face and decides to live its own life, or a madman who can hear dogs talking and can read their letters to each other, than this might be the book for you. If you can let go of the idea that these stories aren't meant to be read as "possible things which may occur in real life," and just enjoy the literature, then you're in for an adventure because Gogol's stories are anything but boring...