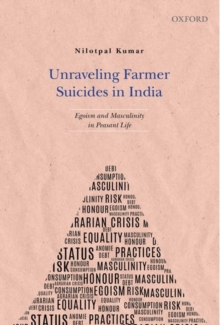 Unraveling Farmer Suicides in India : Egoism and Masculinity in Peasant Life
Hardback
Description
Farmers' suicides' have been typically framed through official statistics and they have been explained in terms of agrarian economic distress.
This book revises and extends such explanations on the basis of ethnographic work in Anantapur, Andhra Pradesh.
It describes spatially grounded transformations taking place in the domains of production, consumption, social relationships, and gender identities in south India today.
Its focus is on exploring how these interconnected transformations-and their engendered, emotional experiences-set the context for understanding suicidal behavior in a particular location.
The understanding that 'farmers' suicides' are objectively, uniformly, and exclusively marked by 'farm-related' factors are thus interrogated.
The book concludes by suggesting that 'farmers' suicides' are motivationally related to the wider field of rural suicides.
Overall, the book contends that rural suicides relate to emerging mentalities and interactions around status, equality, and honour in contemporary India.
Information
Format: Hardback
Pages: 372 pages
Publisher: OUP India
Publication Date: 24/01/2017
Category: Rural communities
ISBN: 9780199466856
Free Home Delivery
on all orders
Pick up orders
from local bookshops