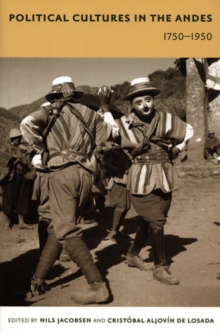 Political Cultures in the Andes, 1750-1950
Hardback
Description
A major contribution to debates about Latin American state formation, Political Cultures in the Andes brings together comparative historical studies focused on Colombia, Ecuador, Bolivia, and Peru from the mid-eighteenth century to the mid-twentieth.
While highlighting patterns of political discourse and practice common to the entire region, these state-of-the-art histories show how national and local political cultures depended on specific constellations of power, gender and racial orders, processes of identity formation, and socioeconomic and institutional structures.The contributors foreground the struggles over democracy and citizens' rights as well as notions of race, ethnicity, gender, and class that have been at the forefront of political debates and social movements in the Andes since the waning days of the colonial regime some two hundred years ago.
Among the many topics they consider are the significance of the Bourbon reform era to subsequent state-formation projects, the role of race and nation in the work of early-twentieth-century Bolivian intellectuals, the fiscal decentralization campaign in Peru following the devastating War of the Pacific in the late nineteenth century, and the negotiation of the rights of "free men of all colors" in Colombia's Atlantic coast region during the late colonial period.
Political Cultures in the Andes includes an essay by the noted Mexicanist Alan Knight in which he considers the value and limits of the concept of political culture and a response to Knight's essay by the volume's editors, Nils Jacobsen and Cristobal Aljovin de Losada.
This important collection exemplifies the rich potential of a pragmatic political culture approach to deciphering the processes involved in the formation of historical polities. Contributors. Cristobal Aljovin de Losada, Carlos Contreras, Margarita Garrido, Laura Gotkowitz, Aline Helg, Nils Jacobsen, Alan Knight, Brooke Larson, Mary Roldan, Sergio Serulnikov, Charles F.
Walker, Derek Williams
Information
Format: Hardback
Pages: 400 pages
Publisher: Duke University Press
Publication Date: 08/06/2005
Category: History of the Americas
ISBN: 9780822335030
Free Home Delivery
on all orders
Pick up orders
from local bookshops
Also in the Latin America Otherwise series | View all