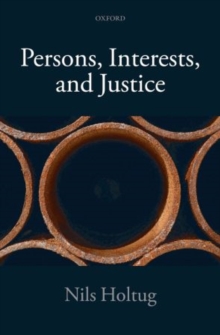 Persons, Interests, and Justice
Paperback / softback
Description
In our lives, we aim to achieve welfare for ourselves, that is, to live good lives.
But we also have another, more impartial perspective, where we aim to balance our concern for our own welfare against a concern for the welfare of others.
This is a perspective of justice. Nils Holtug examines these two perspectives and the relations between them.
The first part of the book is concerned with prudence; more precisely, with what the necessary and sufficient conditions are for having a self-interest in a particular benefit.
It includes discussions of the extent to which self-interest depends on preferences, personal identity, and what matters in survival.
It also considers the issue of whether it can benefit (or harm) a person to come into existence and what the implications are for our theory of self-interest.
A 'prudential view' isdefended, according to which a person has a present self-interest in a future benefit if and only if she stands in a relation of continuous physical realization of (appropriate) psychology to the beneficiary, where the strength of the self-interest depends both on the size of the benefit and on thestrength of this relation.
The second part of the book concerns distributive justice and so how to distribute welfare or self-interest fulfilment over individuals.
It includes discussions of welfarism, egalitarianism and prioritarianism, population ethics, the importance of personal identity and what matters for distributive justice, and the importance of all these issues for various topics in applied ethics, including the badness of death.
Here, a version of prioritarianism is defended, according to which, roughly, themoral value of a benefit to an individual at a time depends on both the size of the benefit and on the individual's self-interest, at that time, in the other benefits that accrue to her at this and other times.
Information
Format: Paperback / softback
Pages: 368 pages
Publisher: Oxford University Press
Publication Date: 01/08/2012
Category: Ethics & moral philosophy
ISBN: 9780199658282
Free Home Delivery
on all orders
Pick up orders
from local bookshops