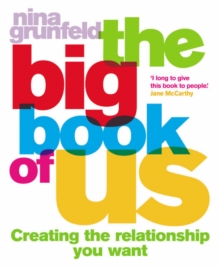 Big Book of Us
Paperback / softback
Description
Are you curious about your relationship? What makes it work? Are you experiencing a rough patch? Can you get out of it? Have you met the right person? Let's face it. Everyone could talk till the cows come home about their relationship, and what's wrong with it, or him, or her.
But what do we ever do about it - really do about it - until it's too late?
This book offers you an opportunity to put your relationship through a full MOT.
Structured along the same lines as Nina's very popular "Big Book of Me", with quizzes, worksheets and quotes, it is an invaluable tool both for those looking to form a new relationship, and those who want to revitalise the one they've got.
Use it to coach yourself (and your other half) to a better, more mutually fulfilling partnership - to discover who you are, who they are and where your relationship could go.
Don't let this relationship go the way of the others.
Information
Format: Paperback / softback
Pages: 240 pages
Publisher: Short Books Ltd
Publication Date: 04/01/2007
Category: Family & relationships
ISBN: 9781904977872
Also by Nina Grunfeld