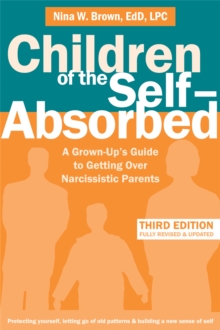 Children of the Self-Absorbed : A Grown-Up's Guide to Getting Over Narcissistic Parents
Paperback / softback
Description
Do you have a self-absorbed or narcissistic parent who's made you feel rejected, unloved, or unworthy?Being a parent is usually all about giving of yourself to foster your child's growth and development.
But what happenswhen this isn't the case? Some parents dismiss the needs of their children, asserting their own instead, demandingattention and reassurance from even very young children.
This may especially be the case when a parent has narcissistictendencies or narcissistic personality disorder (NPD).
This fully revised and updated edition of a self-help classic offers astep-by-step approach to resolving conflict and building a meaningful relationship with a narcissistic parent. Children of the Self-Absorbed offers clear definitions of narcissism and narcissistic personality disorder to help youidentify the extent of your parent's problem.
You'll learn the different types of destructive narcissism and how to recognisetheir effects on your relationships.
Packed with proven techniques, you'll realise that you're not helpless against yourparent's behaviour, and that you don't have to give up on the relationship.
Instead, you'll find realistic strategies and steps for setting up mutually agreed upon behaviours, so you can fulfil your own emotional needs. In this new edition, you'll discover:*Skills for managing intense emotions*Tools for building character, self-esteem and self-acceptance*How kindness and gratitude can promote self-healing*How to build trust and empathy with othersIf you're ready to begin healing from the pain of growing up with a self-absorbed parent and establish the boundaries youneed to thrive - this book will guide you, one step at a time.
Information
Format:Paperback / softback
Pages:264 pages
Publisher:New Harbinger Publications
Publication Date:28/05/2020
Category:
ISBN:9781684034208
Other Formats
Paperback / softback from £10.69