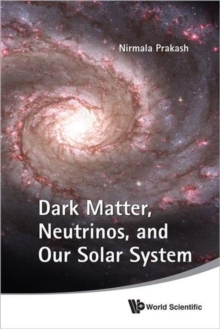 Dark Matter, Neutrinos, And Our Solar System
Hardback
Description
Dark Matter, Neutrinos, and Our Solar System is a unique enterprise that should be viewed as an important contribution to our understanding of dark matter, neutrinos and the solar system.
It describes these issues in terms of links, between cosmology, particle and nuclear physics, as well as between cosmology, atmospheric and terrestrial physics.
It studies the constituents of dark matter (classified as hot warm and cold) first in terms of their individual structures (baryonic and non-baryonic, massive and non-massive, interacting and non-interacting) and second, in terms of facilities available to detect these structures (large and small).
Neutrinos (an important component of dark matter) are treated as a separate entity.
A detailed study of these elusive (sub-atomic) particles is done, from the year 1913 when they were found as byproducts of beta decay - until the discovery in 2007 which confirmed that neutrino flavors were not more than three (as speculated by some).The last chapter of the book details the real-time stories about the "regions" that were not explored thus far, for lack of advanced technology.
Their untold fascinating stories (which span up to 2010) are illustrated here datewise in full.The book concludes with the latest news that the Large Hadron Collider team at CERN has finally succeeded in producing 7 trillion electronic Volts of energy by creating head-on-collisions of protons and more protons (in search of God-particle).
The energy produced was three times more than previous records.
Information
Format: Hardback
Pages: 676 pages
Publisher: World Scientific Publishing Co Pte Ltd
Publication Date: 21/12/2012
Category: Cosmology & the universe
ISBN: 9789814304535
Free Home Delivery
on all orders
Pick up orders
from local bookshops