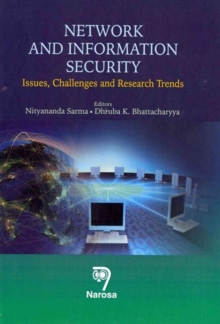 Network and Information Security : Issues, Challenges and Research Trends
Hardback
Description
Due to increasing sophistication in attackers' ability to launch attacks and growing dependence of users on the Internet, development of effective security mechanism has become a necessity while being a challenging task.
NETWORK AND INFORMATION SECURITY: Issues, Challenges and Research Trends takes a holistic view for understanding of different types of network and information security threats, designing tools and mechanisms to defend against various threats.
Accordingly, it covers - audio watermarking scheme for secure distribution of audio files, fusion of fingerprint and iris biometrics using BPSO, meta ensemble classifier for anomaly based IDS, network security tools and systems, formal verification of firewall anomalies, detection of Botnets, dynamic SQL classification, trust in web services and cloud computing environment, Identity Based Signatures (IBS), Side Channel Attacks (SCA), symmetric key generation using chaos theory, identity privacy in UMTS, and security vulnerabilities in CRNs.
Information
Format: Hardback
Pages: 194 pages
Publisher: Narosa Publishing House
Publication Date: 30/01/2013
Category: Engineering: general
ISBN: 9788184873146