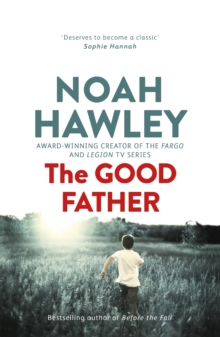 The Good Father
Paperback
Description
From the creator and writer of the Emmy Award-winning series Fargo, based on the Oscar-winning Coen Brothers film.An ordinary boy with an ordinary life stands accused of killing the next president of the United States.WHAT HAPPENED?Dr Paul Allen is a well-respected man.
He lives a happy, comfortable life with his second wife and their family.
Until the night when a knock at the door blows his world apart: a hugely popular presidential candidate has been shot, and they say the young man who pulled the trigger is Paul's son.Daniel, the only child from his first, failed marriage, was always a good kid and Paul is convinced his quiet boy is not capable of murder.Overwhelmed by a vortex of feelings, Paul embarks on a mission to understand what happened and why.
Following the trail of his son's journey across America, he is forced to re-examine his life as a husband and a parent, and every decision he ever made.What follows is a powerfully emotional and suspense-filled quest that keeps you guessing to the very end.'Monsters don't just become monsters, after all.'
Information
Format: Paperback
Pages: 400 pages, None
Publisher: Hodder & Stoughton General Division
Publication Date: 01/01/2013
ISBN: 9781444730395
Free Home Delivery
on all orders
Pick up orders
from local bookshops
Reviews
Showing 1 - 4 of 4 reviews.
Review by Carolinejyoung
16/06/2015
I was a little confused as to whether this book was fact or fiction at times, due to the details of previous assassinations, but discovered that the author has combined the two to create his story. A good book.
Review by infjsarah
16/06/2015
This was a reading group book and I didn't expect much but it was excellent. A book to make you think but don't expect answers.
Review by tina1969
16/06/2015
Dr Paul Allen is a happy family man. His whole life changes when he hears the news that his eldest son has killed the next president of the United States.My Thoughts:I get the point of this book. It made me think and any parent will know where this book is coming from. I would myself move mountains for my two lads. Would I or could I believe that either of my lads are capable of such a crime. No is my answer and yes I would do what Paul has done in the story. So yes I get the point of this book.My problem is that I didn't enjoy the book and didnt really like the story. I found the book quite disturbing and really quite depressing. The story started quite well and I settled into it but I started to lose the way. I was hoping that perhaps the story turned out to be a bit more of a thriller. I was thinking along the lines of a Jodi Picoult book where the reader has the dilemma what would they have done, and then perhaps at the end of the book a humdinger if a court case. This book was very much along the same lines as 'We need to talk about Kevin' another book that questions where did the parent go wrong. Not really for me but at times I was interested and at other times I couldn't have cared less. Not sure who I would recommend this book to as I feel that the back bone of the story was promising but I feel it fizzled out with a lot of ramblings by the narrator.
Review by missizicks
16/06/2015
Gripping from start to finish, with a classic American economy of language (think Richard Ford, John Steinbeck or Chuck Palahniuk) that drives the story on. The three stranded structure to the book was a clever way to get the whole story across, switching between the father's attempts to make sense of his son's actions, a narrative that reveals the son's trajectory and case studies of other famous crimes. As I was reading, I thought what a good film or mini series it would make, then read the author blurb and understood why.