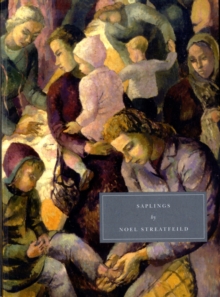 Information
Format: Paperback
Pages: 384 pages
Publisher: Persephone Books Ltd
Publication Date: 23/04/2009
ISBN: 9781906462086
Free Home Delivery
on all orders
Pick up orders
from local bookshops
Reviews
Showing 1 - 2 of 2 reviews.
Review by wyvernfriend
16/06/2015
While the adult characters come across as a bit two-dimensional, the children are well-fleshed out. A perfect book to read after reading about Childrens Fiction in the Second World War by Owen Dudley Edwards, because this is a book that looks back at that time and tells a hard story about the effects it has on people.The story opens with a family at the sea-side. Two boys, two girls, two parents. The mother is a little self-involved, at one stage she describes herself as more a wife than a mother. The war has just started and the parents have decided to let their paternal grandparents take them to the countryside. As the story unfolds the children are effected by the war and, later when their father dies, how more upheaval changes their lives. Their mother learns the least, through an affair and remarriage, but the children's lives are never the same.I found it touching and quite true to life, these saplings are bent and twisted by things they have no control over, things that they really would prefer to be able to do something about. Without the war their lives would have been much different. In fact the blithe observation by Mrs Oliver that "Our kids 'aven't suffered 'o-ever else 'as." shows the blindness of many people to how much things can effect children.The story deals with depression, attempted suicide, extra-marital affairs, gossip, trying to fit in and many other themes, probably more a young adult book in this day but still an interesting read. It's not a book to just hand a child who enjoyed Ballet Shoes, this is a more adult story than that.
Review by DieFledermaus
16/06/2015
Saplings is a smoothly written, engaging book, notable for depicting the British home front during WWII from the point of view of several children, but as the book progressed, there was a grating undercurrent of judgmental moralism. Some of the children's behavior issues also seemed very schematic. While the author captures a number of nuances in her young characters' behavior and reactions, the adults tended to be one dimensional. A quick and involving read but there were some annoyances.In the opening chapters, the middle-class Wiltshire family is on a seaside holiday. The author nicely captures their happy, busy family life. It becomes clear that father Alex has planned this trip as one last good time before the war starts. He confides in his two eldest children, caring and intelligent Laurel and Tony, but tries to shield Kim, spoiled and self-involved, and Tuesday, the baby. Alex has to stay in London for his work but is determined to send his family to safety in the country. Lena, his wife, is rather selfish and shallow, preferring her husband to her children, so she refuses to go with her children and stays with him. The move is the start of a constant shifting, as the children move from one home to another, from school to various houses, and grow up with no stable home and family. Alex is killed and Lena falls apart, barely keeping things together. The trajectory of the family is traced as they try and sometimes fail to cope.Lena becomes the center of the children's home life after the death of their father but she is constantly criticized by comparisons that are made between her and almost every other adult in the book. Alex is an ideal father, almost too good to be true, and Lena resents the time he spends being a father rather than her husband. The children's governess, Ruth, thinks of Lena's love as more one of animalistic lust than a true love. Lena compares poorly to Alex's loving, understanding parents, the more maternal/paternal servants, the motherly nanny and the perceptive, supportive Ruth. Laurel's schoolmistress is more of a comfort to her than her mother after Alex dies. Even Alex's harried, meek sister Sylvia, who makes meals that are pretty much toxic, comes off as better than Lena as she is able to effectively reach out to Tony. Lena is beautiful and fashionable but selfish, emotionally shallow, needy and unstable and jumps from relationship to relationship. She's like a caricature of a bad mother even if she isn't all bad. She occasionally likes to play with and comfort the children, as though they were toys or pets, and the author clearly thinks that the children are better off with her than without her. I will say that part of my annoyance might come from reading this book soon after The Rising Tide by M.J. Farrell, which also featured a beautiful and vivacious woman who prefers her husband to her children, loses him in a war, then engages in self-destructive behaviors and relationships. But Farrell makes her main character appealing as well as horribly selfish.There is one character who almost makes Lena look good – one of Alex's sisters, Lindsey. Lindsey is a successful and intelligent author but she is also a cold, selfish bitch. It's notable that she is the only one of Alex's siblings who is childless and her marriage is shown to be unhappy due to her controlling, bitchy tendencies. Lindsey is terribly one-note as a character and, along with Lena, is one of the obviously bad characters. At first it seems as though the "bad" characters are not only negative stereotypes of women, as Kim is also something of a selfish narcissist. However, school soon takes up most of his competitive, needy energy and he is less annoying in the latter half of the book. He comes out the least damaged of the Wiltshire children, suggesting those more sensitive and caring are hurt the most. Without Kim causing trouble, Lena and Lindsey are the ones responsible for further destabilizing and hurting the children even if at times they don't mean to. The rather pat association of being "motherly" with being a good person is irritating.The POV of the children is probably the strongest part as the author shows all the little frustrations brought on by the war and how, though they are not important, they mean everything to children who have only known comfort and love. Many of the adults try to protect the children by keeping things from them but they find out and this causes even more anxiety. The appearance of psychosomatic and behavioral problems is also realistically done at first. However, later on some of the problems seem rather too neatly set up. For example, Tony suffers a traumatic experience after Alex's death. He has a number of symptoms but then after finally breaking down, confessing and being reassured, they all go away. Tuesday also has some issues due to the constant shuffling around but then her problems are immediately cured when all the family comes home. Of course the story is about the lives of the Wiltshire family but it almost seemed like there was too much focus on them. They have many aunts, uncles and cousins but the effect of the war on other families is only mentioned and never shown. Ruth has a service job but she is only shown being worried about her former charges. The Wiltshires make friends with some working-class children who have also been evacuated. They are later killed but this plot point is only there to show how it affects the main children and also to point out how wrong their mother, who called them back to the city because she couldn't bear to be away from them, was. It almost made it seem like the problems of the middle-class were the most important thing about the war.
Also in the Persephone Classics series | View all