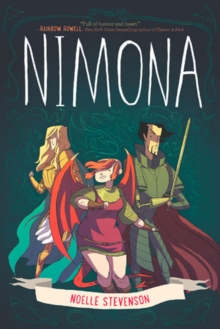 Description
Indies Choice Book of the Year * National Book Award Finalist * New York Times Bestseller * New York Times Notable Book * Kirkus Best Book * School Library Journal Best Book * Publishers Weekly Best Book * NPR Best Book * New York Public Library Best Book * Chicago Public Library Best BookThe New York Times bestselling graphic novel sensation from Noelle Stevenson, based on her beloved and critically acclaimed web comic.
Kirkus says, "If you're going to read one graphic novel this year, make it this one."Nemeses!
Dragons! Science! Symbolism! All these and more await in this brilliantly subversive, sharply irreverent epic from Noelle Stevenson.
Featuring an exclusive epilogue not seen in the web comic, along with bonus conceptual sketches and revised pages throughout, this gorgeous full-color graphic novel has been hailed by critics and fans alike as the arrival of a "superstar" talent (NPR.org).Nimona is an impulsive young shapeshifter with a knack for villainy.
Lord Ballister Blackheart is a villain with a vendetta.
As sidekick and supervillain, Nimona and Lord Blackheart are about to wreak some serious havoc.
Their mission: prove to the kingdom that Sir Ambrosius Goldenloin and his buddies at the Institution of Law Enforcement and Heroics aren't the heroes everyone thinks they are.But as small acts of mischief escalate into a vicious battle, Lord Blackheart realizes that Nimona's powers are as murky and mysterious as her past. And her unpredictable wild side might be more dangerous than he is willing to admit.
Information
Format: Paperback
Pages: 272 pages
Publisher: HarperCollins Publishers Inc
Publication Date: 12/05/2015
Category: Humorous
ISBN: 9780062278227
Free Home Delivery
on all orders
Pick up orders
from local bookshops
Reviews
Showing 1 - 4 of 4 reviews.
Review by msf59
27/08/2015
Nimona is a teenage shapeshifter, with "bad girl" tendencies and decides to side with the dastardly, Lord Ballister Blackheart. Together, they plan on creating chaos for the kingdom, but things are not what they seem, as good and evil begin to reshape and shift like Nimona's many creative guises.This story has it all: adventure, smarts, suspense, humor and of course dragons. It is also beautifully illustrated. The author has created one of my favorite "new" characters, with Nimona and I hope she brings this spunky shapeshifter back. Highly recommended.
Review by mamzel
27/01/2016
There's a super bad guy named Lord Blackheart and a knight in shining armor named Sir Ambrosius Goldenloin (!) and a shape shift named Nimona. She wants to be Blackheart's sidekick and, well, kick ass. A nemesis emerges, an evil Institute who is amassing weapons to be used at some future date. Nimona could very well prove to be an invaluable asset to the Institute.This was a fun story that demonstrates that old story of how looks (and names) can be misleading and actions speak louder than words.
Review by ElizaJane
27/01/2016
Having not been amused by Stevenson's "Lumberjanes" I approached this also widely hailed title with caution only to find myself engaged and endeared. A lovely touching story that is both humorous and fantastically odd. Nimona is a wonderful character! She's a shapeshifter and I've always had a soft spot for 'shifters. But Nimona is unusual, she's either a girl who can turn into any living being she wants including a monster, or! she's a monster who can turn into any living being she wants including a girl. I loved the relationship between her and the not very evil villain. The story is full of action and adventure, but it is also about the oppression and fight for freedom of a town under the thumb of an oppressive, totalitarian government. I wasn't thrilled with the ending but otherwise thoroughly enjoyed my journey getting there and loved the art throughout.
Review by bonniemarjorie
27/01/2016
Nimona is a shapeshifter. She's also hilarious and set on world domination which is why she asked to join up with the designated villain of the kingdom, Lord Ballister Blackheart. The two set out to bring down the Institution of Law Enforcement and Heroics as well as Blackheart's bitter rival (and ex-best friend) Sir Ambrosius Goldenloin. Behind Nimona's fantastic sense of humor is a seemingly somber past that we only see a hint of. The former web comic is now printed and bound and is sure to be loved.Okay, so, despite my middle-of-the-road rating, I really did enjoy this. Nimona was hilarious and all over the place and the graphics were enjoyable as well. I wanted more character building though. The hints about Nimona's past should have been more than just hints and the evil government was a bit too stereotypical. The board game scene had me absolutely dying because if I could breathe fire, that's totally how it'd be like playing board games with me as well.I picked this up though because it's a part of my National Book Award Finalist experiment. It was fun. I enjoyed it. But being nominated for the National Book Award? Not to be a party pooper or anything. I love seeing a young author being nominated. I love seeing a graphic novel being nominated. But in my opinion, it shouldn't have made the cut, and that's what my experiment is all about. Setting all that aside though, this is one for all you graphic novel lovers looking for a good laugh.