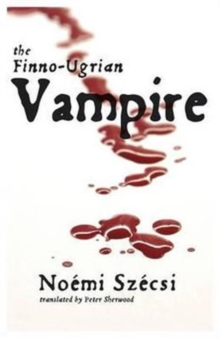 The Finno-Ugrian Vampire
Paperback / softback
Description
Although many teenagers these days would tell you there is nothing more exciting than being a vampire, Jerne Volt Ampere is not ready to embrace her destiny; she would much rather spend her time writing children's books than sucking the blood of the innocent.
Unfortunately this doesn't satisfy her 200-year old grandmother, with whom Jerne lives in the attic of an old house in Budapest. Jerne finds a job in a small publishing house but her stories are deemed too cruel and obscene for children.
At home, her grandmother grows increasingly impatient with Jerne's reluctance to accept her vampiric legacy, and begins to concoct a scheme to make her granddaughter a true vampire. This two-part novel tells a story of love, death and one girl's passion to overcome her destiny, set against the backdrop of contemporary Hungary.
Information
Format: Paperback / softback
Publisher: Stork Press Ltd
Publication Date: 15/10/2012
ISBN: 9780957132665