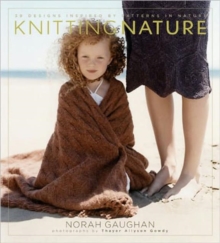 Knitting Nature : 39 Designs Inspired by Patterns in Nature
Hardback
Description
"Knitting Nature" is "geek chic" at its most fascinating and beautiful.
Imagine a woman's pullover born of a fascination with logometric spirals (the spirals you see in rams' horns, seashells); a shawl inspired by the atomic structure of quasicrystals; and a man's pullover whose central motif resembles the patterns formed by chemical waves.
In "Knitting Nature", Gaughan draws knitters into her creative process by explaining - in friendly, layman's terms - how she uses patterning in physics as inspiration and challenge, then hooks them with her sophisticated, classic designs, ready for them to reproduce following her step-by-step instructions.
Information
Format: Hardback
Pages: 176 pages, cl/bw/tt illustrations, cl75/bw10/tt85 photographs
Publisher: Stewart, Tabori & Chang Inc
Publication Date: 23/05/2006
Category: Knitting & crochet
ISBN: 9781584794844
Free Home Delivery
on all orders
Pick up orders
from local bookshops
Reviews
Showing 1 - 5 of 5 reviews.
Review by Antheras
16/06/2015
When I first heard that Norah Gaughan was publishing a book of knitting patterns, I was very excited. Her patterns have always delighted me for they tend to incorporate her love of science, as well as interesting knitting shapes and construction. Knitting Nature: 39 designs inspired by patterns in nature did not disappoint, within moments of opening I had found countless patterns I wanted to start knitting immediately.Knitting Nature takes its inspiration from the book The Self Made Tapestry by Philip Ball. Gaughan found it in a bookstore and as she explains "it was filled with patterns and shapes that I knew would relate to the shapes I wanted to use in my knitting." The patterns in Knitting Nature, as the title implies, draw their inspiration from the natural principles. Gaughan explains it best in an interview found on the Berrocco.com website: "I was definitely approaching nature from a physics point of view. Rather than looking to the things we associate with nature (like leaves, flowers, and trees), I found in natural objects the examples of physical principles."The patterns are unique and look incredibly challenging; however, as Gaughan states in her introduction, "I like things to look complicated, but have an underlying simplicity." The patterns in Knitting Nature are organized by their underlying shapes: hexagons, pentagons, spirals, phyllotaxis, fractals, and waves.Knitting Nature includes a wide range of patterns, from skirts to sweaters to accessories. The designs themselves range from fairly basic scarves to very unique outfits, sure to provide something for every taste. An added bonus is the truly stunning photography by Thayer Allyson Gowdy. Knitting Nature is a recommended addition for any knitting library.Norah Gaughan, is the design director for Berrocco Yarns and has been working in the design industry for more than 20 years. An internationally known knitwear designer, her work has been featured in all the major knitting publications. Knitting Nature is her first book.
Review by sammimag
16/06/2015
I love the looks of things in the books but I am not sure *yet* if I really want to make anything.
Review by leafsister
16/06/2015
If I could knit every thing in this book. Wow, that would be to great because everything is so beautiful!!
Review by knittingpanda87
16/06/2015
Norah Gaughan is just such a great designer. I love almost every pattern in here. They are all just so differant from your average pattern. They don't look to hard to make but just have a beautiful and interesting design and construction.
Review by sumik
16/06/2015
Man, I love the way her designs look. I've FINALLY picked a couple to try making (Spiral Scarf, Sunflower Tam) and can't wait to get the yarn and go.