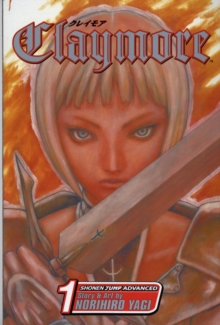 Claymore, Vol. 1
Paperback
Part of the Claymore series
Description
A Claymore - a female warrior named for the sword she carries - travels from medieval village to village to destroy Yoma, monsters who disguise themselves as humans and who are almost impossible to kill.
Claymores are half-humans, half-demons who willingly transformed themselves by mixing their blood with monster's blood.
Claire, nicknamed silver-eyed killer, is such a powerful Claymore, she can slay a Yoma using only one hand.
But she must constantly struggle to keep from becoming a monster herself.
Information
Format: Paperback
Pages: 208 pages
Publisher: Viz Media, Subs. of Shogakukan Inc
Publication Date: 01/04/2006
Category: Manga
ISBN: 9781421506180
Free Home Delivery
on all orders
Pick up orders
from local bookshops
Reviews
Showing 1 - 4 of 4 reviews.
Review by Kassilem
16/06/2015
I like anything medieval with swords and warriors. Claymore is definitely this with a fantasy twist. The art isn't all that in my opinion, but every artist is different and I've heard that it gets better (mostly it does the more the artist draws). It's not bad enough that I can't get through it to the story. There's lots of sword fighting and blood and some nudity. but it's not overly gory or explicit yet. I'm sure I'll be reading more of this series soon.
Review by BrynDahlquis
16/06/2015
The plot's not bad, but the way it's written doesn't draw me in, and the art is somewhat monotonous. All the people look exactly the same.
Review by catfantastic
16/06/2015
The premise of this fantasy manga is that there are young women who have ingested demon flesh and so attain some of their superhuman strength, which they use to kill the demons that plague the medieval-type world. The girls are called "claymores" after the huge swords they carry, or "silver eyed witches" because of their demonic eyes. I found <i>Claymore</i> a little bland both in terms of story and art. Yagi has a very particular style of drawing which wasn't really to my tastes and all of the characters had a certain sameness about their features. The story didn't really draw me in either. I think I'll pass on this series.
Review by krau0098
16/06/2015
I was excited to start reading this manga series. I originally watched the anime series for Claymore. My husband has been reading the manga for a while and kept asking when I was going to read it. This book was an excellent opening to this series, I really enjoyed it. Right now there are 24 volumes in the Claymore series.This volume follows the first anime episode very closely. It is an excellent introduction to Claire and the demon fighting Claymore. The demons are called Yoma, and in this book we learn about the Claymore's role in society and how the Claymore become these powerful demon-fighters. It is a very engaging world with characters you really care about...and of course some awesome fighting scenes between Claymore wielding women and evil demons.Yagi does an excellent job of humanizing Claire and making us care about her. This isn't all about kicking Yoma butt (although there is a lot of this). We learn about the sacrifices the Claymore make in their effort to protect humanity and we learn how painful it is for them to leave some of their humanity behind.The illustration throughout is very well done, I really enjoyed it. Some of the scenes are beautifully detailed. I never had trouble recognizing characters or following the story. This is a traditional Japanese manga, so you read from back to front and right to left.Overall I really enjoyed this first installment in the Claymore manga series. Excellent world-building, explosive fight scenes, and characters I actually care about make for a wonderful read. This is highly recommended if you like action-packed dark fantasy manga. I can't wait to see what volume two holds.