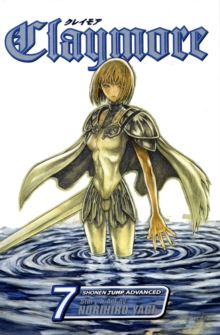 Claymore, Vol. 7
Paperback
Part of the Claymore series
Description
Fearing that she's no match for the deadly Claymore named Ophelia, Clare spirits her companion Raki away to relative safety.
But no matter how far they run, they won't be able to escape Ophelia's heightened senses. And now that Ophelia knows that Clare has awakened, she will not rest until she has destroyed Clare.
Information
Format: Paperback
Pages: 200 pages
Publisher: Viz Media, Subs. of Shogakukan Inc
Publication Date: 31/03/2007
Category: Manga
ISBN: 9781421510491
Free Home Delivery
on all orders
Pick up orders
from local bookshops
Reviews
Showing 1 - 3 of 3 reviews.
Review by Echobrain
16/06/2015
Another solid volume of Claymore. The story slowly gets deeper and deeper as more (and higher-ranking) warriors are introduced.
Review by Kassilem
16/06/2015
I was unsure about starting this series at first. The first volume was interesting enough but it wasn't phenomenal. But I've come to realize with these manga series that it sometimes takes a few volumes to really engross you in the story. So it was with this series and I'm glad I read past the second volume because it took a huge turn for the better. The deep plotline emerged fairly quickly but in pieces so as to keep you wondering and coming back for more, and the artwork seemed to get better. After volume two or three I was either used to the style or it really did get better. And by volume 10 I'm loving it. The story has gone deeper. It's not just a story about action but of comradeship and betrayal and persistence and tragedy. Yagi had me at the sword fighting and demons but now I'm hooked into the story and I don't think it's going to let me go until it's finished. I'm certainly not complaining; I'm enjoying the series immensely. Recommended for fantasy and/or graphic novel fans.
Review by krau0098
16/06/2015
This is the seventh book in the Claymore series. I continue to really really enjoy this action packed dark fantasy manga series. Previous to reading the series I watched the anime, I really enjoyed that as well. So far the manga series is following anime series pretty well (I know the manga came first)...at least as far as I can remember..it's been awhile since I've watched the anime. This book picks up right where the last one left off. Clare and Raki have fled both the Awakened Being and Ophelia. Clare is hoping that the battle with the Awakened Being will delay Ophelia long enough that Clare can get Raki to safety. However, Ophelia has realized that Clare has Awakened and will not be deterred from hunting Clare down once and for all.A lot of very cool things happen in this installment. There is of course, tons of awesome fighting scenes throughout and they are so well done. We also meet Ilena who has perfected the Quicksword technique and is determined to help Clare out by teaching it to her.In the course of all of this we learn a lot of secrets about Clare. We finally start to learn and understand why Clare is so weak, yet in some ways much more powerful than even the single digit Claymore. Clare is an anomaly among the Claymore and it was fascinating to finally figure out why.Overall this series has been a wonderful blend of action, creepy monsters, fascinating plot, and amazing characters. The illustration is phenomenal and never confusing or hard to follow. I am dying to know what happens next. This is a very good manga series, one of the best I have ever read. I highly recommend it to fans of dark fantasy action-packed manga.