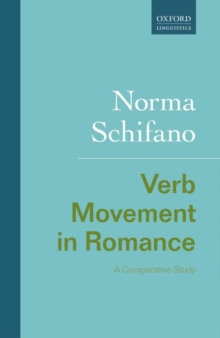 Verb Movement in Romance : A Comparative Study
Hardback
Description
This book provides a detailed account of verb movement across more than twenty standard and non-standard Romance varieties.
Norma Schifano examines the position of the verb with respect to a wide selection of hierarchically-ordered adverbs, as laid out in Cinque's (1999) seminal work.
She uses extensive empirical data to demonstrate that, contrary to traditional assumptions, it is possible to identify at least four distinct macro-typologies in the Romance languages:these macro-typologies stem from a compensatory mechanism between syntax and morphology in licensing the Tense, Aspect, and Mood interpretation of the verb.
The volume adopts a hybrid cartographic/minimalist approach, in which cartography provides the empirical tools of investigation, and minimalisttheory provides the technical motivations for the movement phenomena that are observed.
It provides a valuable tool for the examination of fundamental morphosyntactic properties from a cross-Romance perspective, and constitutes a useful point of departure for further investigations into the nature and triggers of verb movement cross-linguistically.
Free Home Delivery
on all orders
Pick up orders
from local bookshops