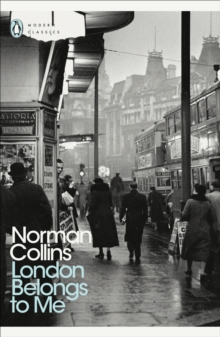 London Belongs to Me
Paperback
Description
Also known as Dulcimer Street, Norman Collins's London Belongs to Me is a Dickensian romp through working-class London on the eve of the Second World War.
This Penguin Modern Classics edition includes an introduction by Ed Glinert, author of The London Compendium.It is 1938 and the prospect of war hangs over every London inhabitant.
But the city doesn't stop. Everywhere people continue to work, drink, fall in love, fight and struggle to get on in life.
At the lodging-house at No.10 Dulcimer Street, Kennington, the buttoned-up clerk Mr Josser returns home with the clock he has received as a retirement gift.
The other residents include faded actress Connie; tinned food-loving Mr Puddy; widowed landlady Mrs Vizzard (whose head is turned by her new lodger, a self-styled 'Professor of Spiritualism'); and flashy young mechanic Percy Boon, whose foray into stolen cars descends into something much, much worse...Norman Collins (1907-1982) was a British writer, and later a radio and television executive, who was responsible for creating Woman's Hour on BBC Radio 4, and became one of the major figures behind the establishment of the Independent Television (ITV) network in the UK.
In all Norman Collins wrote 16 novels and two plays, including London Belongs to Me (1945), The Governor's Lady (1968) and The Husband's Story (1978).If you enjoyed London Belongs to Me, you might like Sam Selvon's The Lonely Londoners, also available in Penguin Modern Classics.'One of the great city novels: a sprawling celebration of the comedy, the savagery, the eccentricity and the quiet heroism at the heart of ordinary London life'Sarah Waters, author of The Night Watch
Information
Format: Paperback
Pages: 752 pages
Publisher: Penguin Books Ltd
Publication Date: 26/02/2009
ISBN: 9780141442334
Free Home Delivery
on all orders
Pick up orders
from local bookshops
Reviews
Showing 1 - 2 of 2 reviews.
Review by wandering_star
16/06/2015
London Belongs To Me covers two years, from Christmas 1938 to Christmas 1940. Momentous years for London, but it starts in a very un-momentous way, with an office Christmas party which includes a farewell to the loyal but invisible clerk, Mr Josser. Of all the characters in that chapter, I was surprised that the narrative then followed Mr Josser home - but I think I was meant to feel that way, as the point of the story is to look into the lives of the sort of people who go about their lives barely noticed - the quiet clerk, the ageing cloakroom attendant, the car mechanic whose abilities will never live up to his dreams. All these people live in the same building as Mr Josser, and (with the rest of their neighbours) we follow them for the next two years. It's a lightly written book, but in some ways all human life is here in these quiet characters, with all their human emotions, ambitions, loyalties and dreams. The author's real sympathy for these people comes through.One of my favourite scenes was the one in which the Jossers meet their future in-laws for the first time. We see Mrs Josser in a complete panic about how to make a good impression - the other father is a country doctor, not a retired South London clerk. But when we meet the other parents, it's clear that they have been in just as much of a panic about the impression they will make on these glamorous city folk. Even though the dinner goes badly, my heart was warmed by the fact that Mrs Josser was not, in the end, shown up as she had feared.London itself, in all its grimness and rich diversity, is almost a character in the book as well. It's a bit reminiscent of Dickens in this way, and in the detailed attention it gives to people's lives. (Also, the character names - Veesey Blaize, the lawyer, for example).
Review by missizicks
27/08/2015
I've been telling anyone who will listen about this book. It is an incredible piece of literature - full of life, humour, pathos. It reads like a classic Ealing Film and it made me warm to London in a way I haven't before. All of the characters are beautifully real, from the landlady of the house that acts as the focus of the novel, to her crazy fiancé who pretends to be a medium without realising he really is a medium, and the perpetually resting actress who likes to be in the thick of everyone's business. The best characters, though, are the Josser family. They are every working class family from that era - resolute, principled, kind but not showy. I was sad when I had to close the book on them. I love it when characters become important to me like that.
Also in the Penguin Modern Classics series | View all