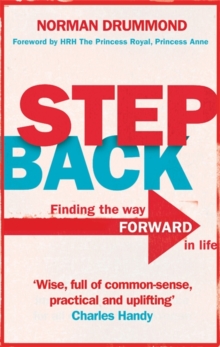 Step Back : Why you need to stop what you're doing to really start living
Hardback
Description
Modern life is frantically busy - we rush from one thing to another, never stopping to think about what really matters to us, what we could be achieving if we could only slow down for long enough to see it.Norman Drummond draws on his wide experience as a headteacher, as a minister and as an internationally respected coach in life and business to bring home the fundamental lesson he has learned both for himselfand for others: we can't hope to achieve our potential unless we take time out to work out what is most important to us.Whether for a few minutes or for a few days, alone or with others - Drummond shows how easy and how effective stepping back can be.Most importantly, he focuses on the rich rewards of stepping back: clarity of thought, stronger objectives - and the ability to discern the true priorities of your own heart.STEP BACK is an essential book for a culture that is unable to rest and relax
Free Home Delivery
on all orders
Pick up orders
from local bookshops
Reviews
Showing 1 - 1 of 1 reviews.
Review by atticusfinch1048
27/08/2015
Step Back – Advice on how to move forward.Norman Drummond, a Chaplain to the Queen, and a life coach has written a short but probably one of the best self-help books I have ever read. Step Back for a self-help book is also probably one of the shortest but not a single word is wasted. Every word like a dart hits the mark, with sage advice, the book is broken down in to two sections packed with advice and guidance.The first section is dedicated to 'The Rich Rewards of Stepping Back' outlines why everyone in today's modern world really needs to take a step back. To use an old phrase everyone should have some "me time" a period of reflection meditation and just letting go. I think one of the often used phrases that sinks in that the relentless search for perfection is unacheivable once you can accept that life is easier about goal setting.One also needs to get over failure and the negative of others and again this is covered in a number of chapters. Psychologists and other counsellors often tell a patient that the first obstacle in a persons life is often the ability to forgive themselves first and this screams out in the first section.Part two is all about the ways in which to step back, and how to make a start and really advises you to start small, something that is acheivable and keep reviewing your goals, or moving up to the next step. Every chapter is practical with sage advice, of which I will be keeping.The best and shortest advice on how to get your life back together move forward to be a better person, a better friend, lover, parent and employee or employer. This is a fabulous book which Human Resource departments should hand out to staff and they may find a better return in productivity. A great book, a great read, great advice, what could be better?