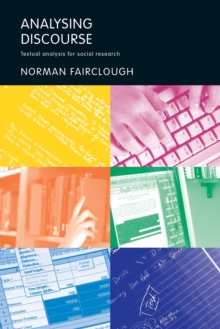 Analysing Discourse : Textual Analysis for Social Research
Paperback
Description
Analysing Discourse is an accessible introductory textbook for all students and researchers working with real language data.
Drawing on a range of social theorists from Bourdieu to Habermas, as well as his own research, Norman Fairclough's book presents a form of language analysis with a consistently social perspective.
His approach is illustrated by and investigated through a range of real texts, from written texts, to a TV debate about the monarchy and a radio broadcast about the Lockerbie bombing.
The student-friendly book also offers accessible summaries, an appendix of example texts, and a glossary of terms and key theorists.
Information
Format: Paperback
Pages: 288 pages
Publisher: Taylor & Francis Ltd
Publication Date: 24/04/2003
Category: Semantics
ISBN: 9780415258937
Free Home Delivery
on all orders
Pick up orders
from local bookshops
Reviews
Showing 1 - 1 of 1 reviews.
Review by MeditationesMartini
16/06/2015
Why do I ALWAYS lose my reviews? Do all of you always lose your reviews? This one was going great and then I just barely TOUCHED the trackpad and boom, lost forever. Well, I choose despite over despond: not gonna rewrite, just gonna leave a very few words and then go seethe.By adding the "critical," Fairclough basically does for classic discourse analysis and pragmatics a more sophisticated and linguistically informed version of what Bourdieu did for speech act theory in <i>Language and Symbolic Power</i>: socializes it, politicizes it, takes us away from "interlocutors" doing tricks with words for purposes arbitrary except for their explanatory power and toward something that shows how we are blinded by our own verbal pyrotechnics to the power stories that speak through us. And then at the same time, for classic Foucauldian "discourse," dialogizing it, linguistifying it. Showing how these discourses that are social and not individual are enacted in real human institutions and inculcated in and by we poor sons of toil, manifesting not only as ways of representing (discourses) but ways of doing (genres) and being (styles).This is a really clear and practically focused textbook giving concepts and real-world examples, though I don't think Fairclough is as far along toward a practical "discourse hermeneutics" as he thinks he is. But maybe I'll change my mind when I read more of his stuff, both because this book warrants it and because I have what I thought were some neat further thoughts to share. But I am both petulant and in need of doing some Christmas shopping and right now I'm not telling you shit else.