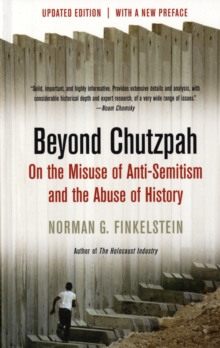 Beyond Chutzpah : On the Misuse of Anti-semitism and the Abuse of History
Paperback
Description
In this long-awaited sequel to Norman Finkelstein's bestselling "The Holocaust Industry" - Finkelstein lays into the human rights record of Israel and attacks Alan Dershowitz for poor scholarship.
In "Beyond Chutzpah", Norman Finkelstein moves from an iconoclastic interrogation of the new anti-Semitism to a meticulously researched expose of the corruption of scholarship on the Israel-Palestine conflict.
Pointing to a consensus among historians and human rights organizations on the factual record, Finkelstein argues that so much controversy continues to swirl around the conflict because apologists for Israel contrive it.
Examining the spread of distortions masquerading as history, Finkelstein scrutinizes the most recent addition to this genre, Alan Dershowitz's "The Case for Israel" and, setting Dershowitz's assertions on Israel's human rights record against the findings of the mainstream human rights community, finds that Dershowitz has systematically misrepresented the facts. Thoroughly researched and tightly argued, "Beyond Chutzpah" lifts the veil of contrived controversy shrouding the Israel-Palestine conflict, enabling readers in search of a just and lasting peace to act on the basis of truth.
Information
Format: Paperback
Pages: 356 pages, Illustrations
Publisher: Verso Books
Publication Date: 01/04/2008
Category: Human rights
ISBN: 9781844671496
Other Formats
PDF from £25.87
EPUB from £25.87
Free Home Delivery
on all orders
Pick up orders
from local bookshops
Reviews
Showing 1 - 1 of 1 reviews.
Review by iftyzaidi
16/06/2015
Professor Finkelstein starts his book with the assertion the that while the basic facts and causes of the Palestinian-Israeli conflict have been pretty conclusively established by historians, they are not well understood due to the mystification and obfuscation of these facts by a veritable industry of highly partisan authors and media personalities. This serves the purpose of shifting the debate over the conflict and its solutions away from meaningful conversations and towards ill-informed and ideologically charged conversations, thereby serving the interests of the status quo and those who benefit from it.The bulk of the book takes on the works of high-powered defense attorney and Harvard law professor Alan Dershowitz, who Finkelstein believes to be a particularly egregious and influential purveyor of falsehoods and misdirections. This is done in an exhaustive, clinical fashion, (each chapter is also led by a quote from Dershowitz's writings on being a defense attorney which include statements about trying to hide facts that make one's client look bad and so on) so that by the end one feels he has done a pretty thorough job of demolishing many of the popular myths floating around.This paperback edition includes an introduction dealing with Dershowitz's defense of his work and his attacks on Finkelstein's book. Dershowitz certainly did not take Finkelstein's demolition job lying down, but not really being able to answer most of the charges made in this book, he took to character assassination, using his influence and that of the Harvard name to undermine Finkelstein's reputation with a battery of accusations and ad hominen attacks which would eventually impact Finkelstein's tenure hearing at DePaul University. Despite the Political Science Department and Personnel Committee of the College of Arts and Sciences voting in favour of tenure, the University Board voted 4-3 to deny tenure. One of the appendices of the book is an article originally published in Counterpunch magazine which looks at the criticisms Dershowitz made of the book as well as his answers to its charges. It also questions the extent to which Dershowitz influenced the tenure process at DePaul.All in all an interesting and insightful book which will be of interest to those who are interested in representations of the Israeli-Palestinian conflict in the west (and particularly in the United States).