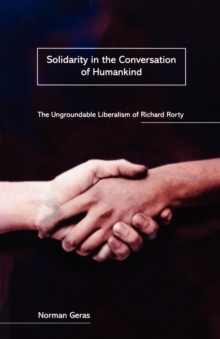 Solidarity in the Conversation of Humankind : Ungroundable Liberalism of Richard Rorty
Paperback / softback
Description
What are the sources of solidarity? Do universalist motives have an important place amongst them? And how are they related to arguments about human nature and about truth?
In this new book, Norman Geras engages with the work of Richard Rorty to explore the paradoxes of a liberalism which rejects and determinate view of human nature.
He begins by examining Rorty's thesis concerning rescuer behaviour during the Holocaust.
Measuring it against existing research on the subject and the testimony of rescuers themselves, Geras questions Rorty's use of their moral example as a challenge to universalist assumptions.
He then considers some of the problems in Rorty's anti-essentialism: his shifting usages of 'human nature'; the paradoxical pleas for extensive forms of solidarity on the basis of parochial communitarian premises; the relationship of pragmatist notions of truth to issues of justice; and the project of democratic, would-be 'humanist' utopia grounded only on contigencies.
Solidarity in the Conversation of Humankind is an imagined dialogue with Rorty - influential, eloquent and unorthodox champion of a humane radical liberalism.
Free Home Delivery
on all orders
Pick up orders
from local bookshops