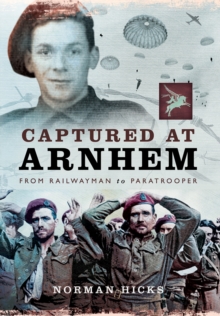 Captured at Arnhem : From Railwayman to Paratrooper
Hardback
Description
Tom Hicks' story begins when he joins the LMS straight from school and follows his early life on the railways in the 1930s, through enlistment, training as a paratrooper, wartime service, imprisonment and his return to the LMS as an engine driver. Tom volunteered for war service in 1939 and was initially placed in the military railway of the Royal Engineers.
In search of adventure, he successfully applied to join the newly formed 1st Parachute Squadron of the Royal Engineers.
The intensity and rigours of parachute training are described in detail, as are the comradeship and humour that came to the fore as this small 150-man unit fought throughout the Second World War as part of the 1st Parachute Brigade. The excitement of the first parachute jumps are relived together with the parachute operations in North Africa, Sicily and the Battle of Arnhem.
It was here after nine days' fighting with his mates falling around him that Tom was wounded and taken prisoner.
Following the battle, Tom was transported in a cattle truck to Germany where he was used as forced labour in a lead mine until being liberated by the Americans in 1945. With insightful commentary from Tom's son Norman, this is the story of an ordinary soldier, who was motivated by pride in his unit.
It was this that would not let him leave the army when he was twice given the opportunity to return home to support the struggling railway system.
Tom has recounted his experiences with a keen eye and the sense of humour that has always enabled him to triumph in the face of adversity.
Information
Format: Hardback
Pages: 284 pages, 16 pages of plates
Publisher: Pen & Sword Books Ltd
Publication Date: 17/10/2013
Category: Second World War
ISBN: 9781783030330
Free Home Delivery
on all orders
Pick up orders
from local bookshops
Reviews
Showing 1 - 1 of 1 reviews.
Review by atticusfinch1048
16/06/2015
The Real Life of Tom HicksCaptured at Arnhem by Norman Hicks is the story of Tom Hicks by his eldest son, on his war years and how he went from the railways to be a paratrooper and back again to working on the railways. It is always great to see that the stories of our old soldiers are being recorded so that in generations to come their story will live on long after we have all departed this mortal coil.This is how Tom went from working on the railways when he left school like his father before him to being a proud Englishman and enlisting when war broke out in 1939. On signing up he became a sapper in the Royal Engineers working with their Railway Battalion to his successful application to join the fledging 1st Parachute Squadron in the Royal Engineers.We are taken through the campaigns from Africa to Sicily with clarity and a pride in his regiment through to his capture at Arnhem. Tom Hicks was one of the unfortunate ones who could not escape from the "Bridge to Far". How after capture he was put on a cattle truck and sent to force labour camps in Germany where he was sent down the pit until he was liberated by the oncoming American forces.This is an honest soldier's account of his life and like many men of his age understated and just took it in their stride. After the war Tom went back to work on the railways as a driver and worked through until his retirement in 1982. His story mirrors much of his generation who went to war and came home without much fuss and never really talked about their experiences. As the years go on and those who fought and came home become less this is an important witness account of war, and life in general. Like many Tom Hicks did not come home to a great fanfare but now this book is his fanfare and it has been an honour and privilege to share in his story.