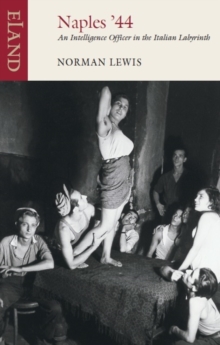 Naples '44 : An Intelligence Officer in the Italian Labyrinth
Paperback
Description
Norman Lewis arrives in war-torn Naples as an intelligence officer in 1944.
The starving population has devoured all the tropical fish in the aquarium, respectable women have been driven to prostitution and the black market is king.
Lewis finds little to admire in his fellow soldiers, but gains sustenance from the extraordinary vivacity of the Italians.
There is the lawyer who earns his living bringing a touch of Roman class to funerals, the gynaecologist who "specializes in the restoration of lost virginity" and the widowed housewife who times her British lover against the clock. "Were I given the chance to be born again," writes Lewis, "Italy would be the country of my choice."
Information
Format: Paperback
Pages: 192 pages
Publisher: Eland Publishing Ltd
Publication Date: 01/07/2002
Category: Biography: general
ISBN: 9780907871729
Free Home Delivery
on all orders
Pick up orders
from local bookshops
Reviews
Showing 1 - 3 of 3 reviews.
Review by krago
16/06/2015
This is one of the best, if not 'the best', narratives / memoirs of the fighting in Italy during WW II.
Review by wandering_star
16/06/2015
This is a diary (edited/reconstructed later) of just over a year in Naples, from September 1943 to October 1944. Norman Lewis arrives in Naples from war work with the Field Security Service in North Africa. Over the course of the year, he feels compassion for the dire poverty and deprivation around him, amazement at the sexual habits of the Neapolitans (which he periodically has to interpret for one British lover), growing disillusionment with the way the occupying forces crack down on petty theft of Allied army property while doing nothing at all about the dealers and profiteers who buy what they have stolen (he believes the black market is largely run by Vito Genovese, New York mafioso turned advisor to the American Military Government).He and his colleagues are supposed to be investigating Nazi collaborators, but find themselves bombarded with allegations - some true, some based on dislike of a neighbour, some intended to get rid of a rival (in legitimate or illegitimate business). He comes to love Italy, although it's clear that far from all of his colleagues share his attempts to understand the place or to behave respectably.This is wonderfully written, whether Lewis is describing an air-raid ("The windows blew in, the blackout screens flapping like enormous bats across the room") or the eruption of Vesuvius: <i>The lava was moving at a rate of only a few yards an hour, and it had covered half the town to a depth of perhaps thirty feet. A complete, undamaged cupola of a church, severed from the submerged building, jogged slowly towards us on its bed of cinders. The whole process was strangely quiet. The black slagheap shook, trembled and jerked a little and cinders rattled down its slope. A house, cautiously encircled and then overwhelmed, disappeared from sight intact, and a faint, distant grinding sound followed as the lava began its digestion.</i>But it's more than just a travel book with an unusual angle. I couldn't help thinking that its portrait of life as a foreign occupier - friendly but out of one's depth in the local society - has a lot of resonance with more current situations.
Review by DramMan
27/08/2015
Diary type reminiscences of a year spent in the region of Naples, 1943-44, by an intelligence officer. Searing account of the hardship and hunger after the allied invasion of Italy, resulting in a host of sordid human failings. Brutal in places, yet the author does find redeeming features amid the tragedies.