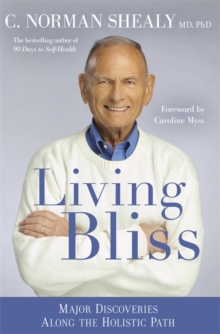 Living Bliss : Major Discoveries Along the Holistic Path
Paperback / softback
Description
In the 1960s, the use of transcutaneous electrical nerve stimulation (TENS) took acupuncture to a new level, revolutionizing pain management.
Now the most important acupuncture advancement in 4,000 years is the activation of the hormone oxytocin without needles or electrical stimulation.
By using essential oils on acupuncture points, you will create the 'bliss' that enables you to fulfill your potential for conscientious living.
Based on research of the past two decades, it is now possible for you to activate five specific acupuncture circuits.
Using this method, you will: . Restore dehydroepiandrosterone (DHEA), the most important health-enhancing hormone . Boost your calcitonin, the essential thyroid hormone for maintaining bone strength and reducing pain . Reduce free radicals, the scavengers that essentially wear out or 'rust' your body . Balance your aldosterone, the adrenal hormone responsible for water and potassium health . Activate your crucial bonding, nurturing hormone - oxytocin - the ultimate bliss hormone!Using specific blends of natural essential oils, you can do your own transcutaneous acupuncture - with no needles and in only 30 seconds!
Information
Format: Paperback / softback
Pages: 192 pages
Publisher: Hay House UK Ltd
Publication Date: 05/06/2014
Category: Chinese medicine & acupuncture
ISBN: 9781781803059
Free Home Delivery
on all orders
Pick up orders
from local bookshops