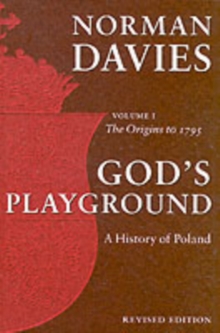 God's Playground A History of Poland : Volume 1: The Origins to 1795
Paperback
Description
This new edition of Norman Davies's classic study of the history of Poland has been revised and fully updated with two new chapters to bring the story to the end of the twentieth century. The writing of Polish history, like Poland itself, has frequently fallen prey to interested parties. Professor Norman Davies adopts a sceptical stance towards all existing interpretations and attempts to bring a strong dose of common sense to his theme.
He presents the most comprehensive survey in English of this frequently maligned and usually misunderstood country.
Information
Format: Paperback
Pages: 488 pages, 8pp halftone plates, numerous maps and figures
Publisher: Oxford University Press
Publication Date: 19/04/2003
Category: European history
ISBN: 9780199253395
Free Home Delivery
on all orders
Pick up orders
from local bookshops
Reviews
Showing 1 - 2 of 2 reviews.
Review by thorold
16/06/2015
Big, sophisticated academic history, covering a thousand years in about the same number of pages. The treatment is part chronological and part thematic, and there seems to be a good mix of facts, analysis and opinion. As something of an outsider, Davies is probably in as good a position as anyone to produce a balanced view of a subject that is bound to be contentious. It's inevitable that some readers will find their particular concern under-represented, given Poland's shifting frontiers and varying ethnic and religious mix over the course of the centuries. We're all partial readers to some extent, of course: I had my own grandparents (German Protestants from Lódz and from Masuria, respectively) in the back of my mind - I'm sure someone with Jewish, Polish or Ukrainian ancestors would have read with a different emphasis. Davies makes the point that the only person who ever managed to achieve an incontrovertible definition of Poland was Stalin, who was in a position to re-arrange the world to fit his map. Historians don't have that luxury.Not being an academic historian myself, I read this book for general background and pleasure, in the knowledge that I'd forget most of the fine detail very soon. I found it something of an eye-opener to be looking at history from the Polish perspective: normally Poland is a place that appears (briefly) in the histories of other places; looking at it from the other side (or rather, in most cases, from the middle) does make you rethink some of your ideas. And make you want to plan a trip East...Davies's style is very readable: a neutral, academic tone, but with the occasional sly joke thrown in. The praise he heaps on his own achievement in the introduction and postscript of this revised edition is perhaps forgivable, given that his book has become pretty much the standard text over the past thirty years. There are some annoying production issues, though. The updating has been a bit hit and miss, so that it isn't always quite clear whether "today" means 1981 or 2004 - you can usually work it out, but it looks sloppy. Even worse are OUP's many little typographical faults. OCR errors are scattered through both volumes (slightly fewer in Volume 2, so the revision process probably helped). The accented Polish letters in Volume 1 are taken from the wrong font, and appear slightly larger than the rest of the text around them, disturbing the flow. That is really irritating and unprofessional, and shouldn't happen in an expensive book from a major academic publisher. Poor reproduction also affects some of the maps and tables in the text, and all the photographic plates (although the latter seem to be an afterthought, not discussed in the text, so it doesn't really matter much).
Review by palaverofbirds
16/06/2015
An incredible book, even if I can't remember ever taking so long to finish one. Extremely dense with information; there's more than a person could ever hope to retain to memory here--fact after fact. What really makes this book stand out in my mind though is that Davies makes it all come together. I may not remember many of the dates and details, but I feel like I have a general understanding of Polish history that I never obtained from any other text on the subject. Davies also doesn't shy away from argument, he takes conventional myths on head on with historical fact. Zbit dobra.