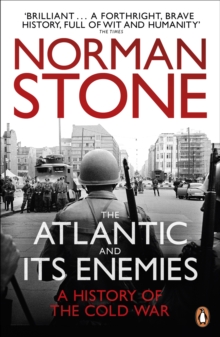 The Atlantic and Its Enemies : A History of the Cold War
Paperback
Description
The Atlantic and its Enemies is Norman Stone's personal, uncompromising and provocative history of how the West 'won' the Cold War. For decades after the end of the Second World War, most of the globe either laboured under Communist rule or else was lost in a violent stagnancy that seemed doomed to permanence.
For every Atlantic success there seemed to be a dozen Communist or Third World successes, as the USSR and its proxies, whether in Berlin, Cuba, Vietnam or China, crushed dissent and humiliated the United States on both military and cultural grounds. Then, suddenly, the Atlantic won - economically, ideologically, militarily - with astonishing speed and comprehensiveness. With wit and brio, Norman Stone's The Atlantic and its Enemies offers a unique perspective on events, from Vietnam to glasnost, and draws on his own experiences - such as his time in a Slovak prison - to show both the tragedy and the absurdity of the struggle that divided the world for over forty years. 'Opinionated, mischievous, enthralling ... an exhilarating read' Boyd Tonkin, Independent 'Lively, idiosyncratic, rollicking' Geoffrey Wheatcroft, Observer 'Masterly ... the one book that anyone who wants to understand the Cold War must read' John Gray, New Statesman 'A swashbuckling survey of the cold war' Mark Mazower, Financial Times '[Stone] has a terrific eye for detail, bringing to life everything from the ruins of Germany to Ronald Reagan's White House with a wonderfully waspish turn of phrase' Economist Norman Stone is one of Britain's most celebrated historians.
He is the author of The Eastern Front, 1914-1917, Hitler: An Introduction, Europe Transformed and World War One: A Short History.
Information
Format: Paperback
Pages: 720 pages
Publisher: Penguin Books Ltd
Publication Date: 01/08/2011
Category: European history
ISBN: 9780141044637
Other Formats
EPUB from £9.99
Paperback from £22.49
Free Home Delivery
on all orders
Pick up orders
from local bookshops
Reviews
Showing 1 - 2 of 2 reviews.
Review by Opinionated
16/06/2015
I have a rather embarrassing confession. I saw this in the bookshop and misread the author's name; I thought it was Norman Davies. And given Mr Davies' interest in Poland, and given Poland played a considerable role in the beginning and end of the Cold War, I thought this would be good.Imagine my dismay when I realised it was written not by the estimable Davies, but by ex Thatcher speechwriter Norman Stone. But still, into it I waded. And a curious experience it is too. Firstly, forget any idea of this being an academic work of history; as Mr Stone says in the preface, it is a tract. A rant in fact. Often amusing, always opinionated, rarely encumbered by the need for historical accuracy. Its rather as though an old, rather eccentric uncle, has sat you down in front of the fire, poured you a brandy, himself a rather larger one, and started telling you anecdotes from history. As long as these are amusingly told you are willing to indulge him for a while, safe with your own interpretation of the world, and even safer in the knowledge that he will eventually nod off. Mr Stone however, does not nod off. He keeps at it relentlessly for 600 pages. In the end, it is the reader who needs the reviving stimulants. I am having mine now...Mr Stone, comes at history from the right, but to his credit he is not a neo Conservative. Rather he is an old C Conservative - opposed to too much education of the masses (an interesting position for a University Professor to adopt), very concerned with how cultivated leaders are, and opposed to ideological pretention (which seems to include any idea formulated post the New Deal). Once you understand this, his heroes and villains are predictably cast. He scorns Kennedy as a TV creation of no substance (and what's more, he sniffs, Harry Truman was a better piano player). Weirdly he ignores Robert Kennedy, but heaps abuse on Edward Kennedy (who surely had almost no influence on the Cold War?). Nixon made mistakes, was ill advised by his "sandwich eating" (a favourite insult) team, but Carter was a born idiot of no redeeming qualities whatsoever. And so it goes. Left wing politicians in any country are either mediocrities, alcoholics or in the pay of Moscow. Only those who are cultured escape rebuke. Denis Healey "knew music properly". Salvador Allende "could discuss painting" . The bitchy tone is never the less entertaining for a while, until you notice that most of the targets of his acrimony are safely dead and unable to litigate. And it takes a certain gaucheness to write as though intimate with the protagonists (Erick Honecker is "irritating little Honecker" etc) when of course you are not. I would give this malevolent tripe no stars at all. But it is, at times amusing. And Stone is good where personality is not involved - his summaries of economic, industrial and financial issues are well researched and interesting. But he needs to leave the politics alone. The Cold War was a very dangerous time in human history, mocking the protagonists adds nothing to our understanding of it
Review by aadyer
27/08/2015
A terrible, terrible book that I really struggled with. Very difficult to follow a cohesive history throughout the book, and only seemingly interesting if you are interested in the views of Norman Stone. Poor, with little of merit apart from a concentration of the economic effects of the Right wing during mainly the latter Cold War. I would certainly advise avoid. One of the worst books I've read in five years.