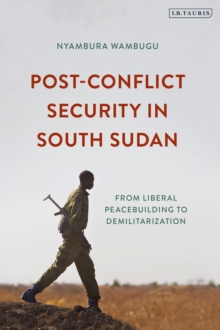 Post-Conflict Security in South Sudan : From Liberal Peacebuilding to Demilitarisation
Hardback
Description
Just eight years after the signing of the Comprehensive Peace Agreement (CPA) and two years after gaining independence, the world's newest nation state descended once more into violence and civil war.
Why have policies of liberal peacebuilding failed to bring lasting stability to the region? And what now for South Sudan? Nyambura Wambugu, an academic with more than ten years' practical advisory and policymaking experience, adopts a holistic and multi-thematic approach to answer these crucial questions.
Rooting her analysis as deeply as the initial militarisation of Sudan in the 1950s, Wambugu considers the complex and overlapping issues that have afflicted the region since 2005.
In the process, Wambugu demonstrates the failure of the billions of dollars spent on liberal peacebuilding and elucidates the possibility of demilitarisation as a lasting and sustainable alternative.
Such issues are common in post-conflict states, and the book therefore acts as a case study for better understanding the deeply entrenched causes of instability and identifying the most sustainable paths to peace.
This meticulously researched account is essential reading for all students, researchers and policymakers working on post-conflict societies
Free Home Delivery
on all orders
Pick up orders
from local bookshops