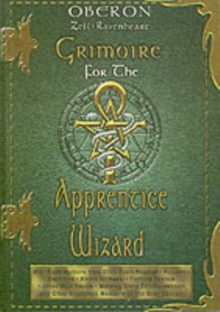 Grimoire for the Apprentice Wizard
Paperback
Information
Format: Paperback
Pages: 372 pages
Publisher: Career Press
Publication Date: 01/02/2004
Category: Occult studies
ISBN: 9781564147110
Free Home Delivery
on all orders
Pick up orders
from local bookshops
Reviews
Showing 1 - 4 of 4 reviews.
Review by lkrough2
16/06/2015
TONS of information here. The book is informative and funny all at the same time. I haven't tried to read it cover to cover, but it is an excellent reference guide.
Review by dayooper
16/06/2015
I'll admit it: I know the author. I am impressed with his vision, his integrity and his spirituality. This book shows how much he learned on his path (with more to come) and is well worth getting for anyone interested in expanding their view of the world both material and spiritual
Review by sstoval3
16/06/2015
Good book definitely geared toward early teens so adults will probably find some of the stuff rather annoying but it is still definitely full of TONS of useful information that adults should still read. His history and science is impeccable there was only factual inaccuracy that I saw and a couple of spelling errors that were probably just typos or printing errors. My biggest problem was that his comments on Satanism were completely off base "Satanism is the darkest of the dark arts, and has nothing whatsoever to do with Wizardry or Witchcraft. Satanic 'ethics' are entirely self-serving and manipulative, and most Satanists will routinely lie about their intentions, actions, and objectives to gain control of others whom they consider as cattle. Do NOT trust such people!" 1 There are indeed satanic witches, just like there are Qabbalistic magicians its two sides of the same coin. We don't own the word witch. This particular inaccuracy reminded me of Silver Ravenwolf's list of what witches do or do not do. 2 Satanists in general either worship themselves as god (Laveyan Satanists/ Church of Satan) and view that as long as you don't hurt others do whatever the hell you like or they view that Satan is the good guy and Yahweh is the bad guy (Traditional/Theistic/Luciferian Satanists) (they site that no god that loved you and was good would take away pleasure). I therefore highly object to furthering any misinformation particularly that on a religion that is already misunderstood enough. Keeping that particular thing in mind I do highly recommend his book but as with any book question everything you are told even this.
Review by earthlistener
16/06/2015
A good book, and very thorough on a verity of topics overall. A really interesting introduction to magic and paganism. This book took me some time to read it throughout considering how thick it is and how the pages are set up. It has a little bit of history which as a general whole seems accurate, it has good ideas and techniques of to practice, information on certain matters, and more.The book is set up to start with some bare bones basics and work its way up from there. Because of how the chapters are set-up they are very child and teen friendly at not being confusing or intermediating any readers. Sometimes though the book seems to wander a little to much toward the line between fact and fantasy. The Book seems to draw a little to much on popular books on wizardry at the time, and uses a few to many references to Harry Potter, Lord of the Rings, and other fictional works, however I don't think it detracts much from my view on this book.
Also by Oberon Zell-Ravenheart