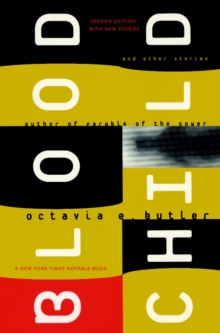 Bloodchild : And Other Stories
Paperback
Information
Format: Paperback
Pages: 352 pages
Publisher: Seven Stories Press,U.S.
Publication Date: 10/06/2005
ISBN: 9781583226988
Free Home Delivery
on all orders
Pick up orders
from local bookshops
Reviews
Showing 1 - 5 of 8 reviews.
Previous | Next
Review by clong
16/06/2015
I was very impressed by this dark and intriguing collection from Octavia Estelle Butler. These stories are well written, thought provoking, and challenging. Butler establishes character quickly and sets up some very imaginative settings. The title story has several layers of symbolism, offering a vision of Male as Mother, and a vision of a human/alien society which is both parasitic and symbiotic. "The Morning and the Evening and the Night," a powerful story about two young people struggling with the knowledge that they are fated to develop a disease that brings self-loathing, self-mutilation and ultimately suicide, was my favorite in the collection. "Speech Talk," a story about a survivor of a plague that has destroyed mankind's ability to use language, was also thought provoking, and offered interesting parallels to Robert Matheson's I Am Legend (which like "Speech Talk" is also set in Los Angeles). It's not a book to read if you are depressed and looking for a lift. Except for the male who would be mom from Bloodchild, the other protagonists are all female. The characters are in some cases explicitly, and in other cases, implicitly black, but I wouldn't categorize these as African American fiction. It is more fiction that offers insight into what it is to be human, viewed through the lens of the African American experience.
Review by donp
16/06/2015
The essay "Furor Scribendi" alone is worth the cover price.
Review by whitewavedarling
16/06/2015
A friend gave me this collection, and I have to say, it's wonderful, and a particular find for someone like me who spends so much time writing and teaching writing. Butler's prose is fluid and engaging--not a word too many or too little. Each story grabs you from the first page (as alien as it may be to what you've experienced before) and moves you through to the end, surprising you with the combination of grace and darkness that each story brings up. Some of these are darker than others, and it's a fair warning to say that the very first story in the collection is by far the most graphic, and probably the darkest of them all. Butler's newer stories (the two at the end) are as striking as the early ones, but my favorites are probably "Speech Sounds", "Amnesty", and "The Evening and the Morning and the Night". These are primarily science fiction and fantasy, but they're also literary. The three listed above and "Near of Kin" are probably the closest to standing outside of the sci-fi genre, but even "Amnesty" is clearly sci-fi if you must label it. If you're curious about branching out, I'd recommend these. What makes this book even more of a find is that after each story, Butler has written a brief and telling afterword to discuss her thoughts on the story--where it came from, her feelings on it or responses, etc. These are, without doubt, perfect for a creative writing class, where the group can experience the story, and later be given the afterward (assuming the instructor is copying and the students don't have the full book in front of them). Also, there are two short essays on writing, both of which are worth passing on to young writers and reading yourself.As a whole, this was a wonderful read---entertaining, smart, and gracefully written. I recommend it highly to writers and readers of science fiction or short fiction alike.
Review by krisiti
16/06/2015
Sat and read it through in the basement of Princeton Public Library, while avoiding a too-loud war tv broadcast upstairs. I think the tv was turned down eventually, but I was to engrossed to notice.Very gripping little stories. I didn't quite like the one about incest. And the title one - it _was_ about slavery, or something close to. And the illness ones ... didn't quite buy the pheremones.
Review by bohemiangirl35
16/06/2015
Octavia Butler is one of my favorite sci-fi authors. Her short stories are a good way to ease into her novels if you've never been exposed to her. Literal thinkers might take a minute to get used to the way her mind works. Some of the subject matter in this collection is disturbing, but her writing and unconventional stories are amazing.