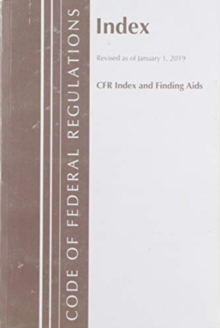 Code of Federal Regulations, Index and Finding Aids, Revised as of January 1, 2019
Paperback / softback
Description
This 700 page subject index, complete with cross references, helps researchers locate federal regulations applicable to the operations of government departments and agencies of the executive branch.
The Parallel Table of Authorities and Rules provides a citation index of the codified promulgated rules in the Code of Federal Regulations.
Also included are the 180-page List of CFR Titles, Chapters, Subchapters, and Parts; and the 9-page Alphabetical List of Agencies Appearing in the CFR.
Additions and revisions are posted annually by January.
Publication follows within six months.
Information
Format: Paperback / softback
Pages: 1254 pages
Publisher: Rowman & Littlefield
Publication Date: 03/03/2019
Category: Government powers
ISBN: 9781641437509