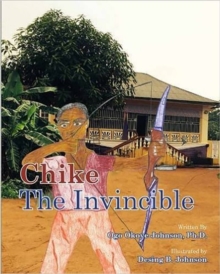 Chike the Invincible
Hardback
Description
"Chike the Invincible" is an inspirational picture storybook in the folktale genre that illustrates the indomitable human spirit while teaching lessons in perseverance and valor.
In the mighty village of Awor lived a valiant young boy Chike.
Chike grew up under the loving care of his famous father, Ike and his mother, Chi-Chi.
Ike is the powerful and gallant chief of Awor who wins the biggest yam and the archery competitions year-after-year during the annual New Yam Festival.
Chike boldly follows in his fathers footsteps and successfully competes in the archery competitions against older contestants.
Tragically, Ikes jealous brother Obi lays a trap for Ike during an archery competition.
Ike falls into the trap and dies from his injuries. Obi declares himself chief of Awor. Obi ruthlessly banishes Chike and his mother from their home, the chiefs compound.
Fatefully, the chief of Abah annexes Awor after a border battle caused by Obi.
While in exile in his mothers home, Chike calls on Awors warriors to join him to reclaim Awors independence from Abah.
With the help of Awors warriors, Chike is victorious in the battle and restores peaceful relations with Abah.
In jubilation and gratitude for Chikes valiance, Awor villagers installed him as their rightful chief.
Dr. Ogo Okoye-Johnsons thriller, Chike the Invincible, transports readers to a village chock-full of valor, poetic justice and intrigue.
Information
Format: Hardback
Pages: 32 pages
Publisher: Primedia E-launch LLC
Publication Date: 01/08/2016
Category: Picture storybooks
ISBN: 9781944244323
Free Home Delivery
on all orders
Pick up orders
from local bookshops