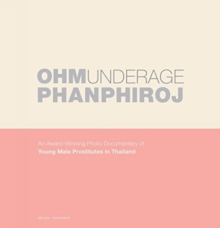 Underage : An Award-Winning Photo Documentary of Young Male Prostitutes in Thailand
Hardback
Description
Underage is an award-winning photographic documentation aimed at understanding the minds of underage male prostitutes in Thailand in a most candid and visceral way.
Photographer Ohm Phanphiroj uncovers the life, choice, and consequences that these young boys are experiencing.
Underage prostitution results from several reasons, from being molested by family members and/or relatives, poverty, being a runaway, and drug addiction.Underage has been exhibited worldwide, among others at Newspace Center for Photography (2011), Sommerblut International Art Festival (2011), Noordelicht Photo Festival (2012), The Kinsey Institute (2013), Tally Beck Contemporary (2014), Miami Art Festival (2014), and Documentary Arts Asia (2014).The photographic project received multiple awards, i.e.
Lightwork (2012), Newspace Center for Photography (2012), Documentary Arts Asia (2014), Columbia College fellowship (2015), Noor-Nikon (2015), Society for Photographic Education (2015).
Information
Format: Hardback
Pages: 112 pages
Publisher: Bruno Gmuender GmbH
Publication Date: 01/04/2017
Category: Individual photographers
ISBN: 9783959852500