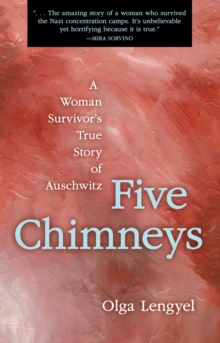 Description
Having lost her husband, her parents, and her two young sons to the Nazi exterminators, Olga Lengyel had little to live for during her seven-month internment in Auschwitz.
Only Lengyel's work in the prisoners' underground resistance and the need to tell this story kept her fighting for survival.
She survived by her wit and incredible strength. Despite her horrifying closeness to the subject, FIVE CHIMNEYS does not retreat into self-pity or sensationalism.
When first published (two years after World War 2 ended), Albert Einstein was so moved by her story that he wrote a personal letter to Lengyel, thanking her for her ""very frank, very well written book"".
Today, with 'ethnic cleansing' in Bosnia, and neo-Nazism on the rise in western Europe, we cannot afford to forget the grisly lessons of the Holocaust.
FIVE CHIMNEYS is a stark reminder that the unspeakable can happen wherever and whenever ethnic hatreds, religious bigotries, and racial discriminations are permitted to exist.
Information
Format: Paperback
Pages: 232 pages, black & white illustrations
Publisher: Academy Chicago Publishers
Publication Date: 15/08/1995
Category: European history
ISBN: 9780897333764
Other Formats
Paperback / softback from £7.95
Free Home Delivery
on all orders
Pick up orders
from local bookshops
Reviews
Showing 1 - 3 of 3 reviews.
Review by shsb
16/06/2015
This is one woman's first-hand account of life at Birkenau and Auschwitz. While imprisoned there, she made it her goal to survive, explicitly to tell the world about the atrocities perpetuated by the Nazis. I highly recommend this book to anyone interested in true accounts of the Holocaust.
Review by JanaRose1
16/06/2015
Written shortly after the Holocaust, Olga Lengyel tells the world how she survived the atrocious conditions of Auschwitz-Birkenau. Olga's husband, a well-known Doctor was arrested for alleged anti-Nazi policies. Reassured by German soldiers, Olga, her parents sand two young sons decided to accompany him to Germany. Placed into a crowded train, they quickly realized the error they had made.Olga writes in a detached way, presenting her story in an unemotional and therefore ineffectual fashion. The conditions of the concentration camp, although horrible, do not completely resonate through her writing style. I would have liked to read more about her involvement with the resistance movement and her interactions in the infirmary.
Review by froxgirl
10/11/2015
A devastating first person account by a Transylvanian deportee in Birkenau (the work camp where living was daily torture) and Auschwitz (the death camp). Upon her family's arrival at the camps via cattle car, the author unknowingly sent her sons and parents to the crematorium, and then lived another year until liberation by the Russian Army. Nothing more needs to be said.