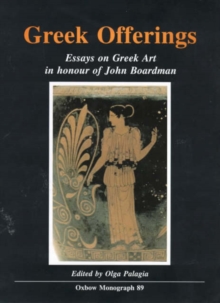 Greek Offerings : Essays on Greek Art in Honour of John Boardman
Hardback
Description
This collection of papers on Greek art by pupils and friends is offered to John Boardman on his seventieth birthday.
Many of the objects discussed here in his honour are published for the first time.
Contents include: The Hesiodic myth of the five races and the tolerance of plurality in Greek mythology (Christiane Sourvinou-Inwood) ; A Minoan Ringstone from the Idaean Cave (Yannis Sakellarakis) ; A Mycenaean Sealstone from Gla (Spyros Iakovidis) ; A Geometric electrum band from a tomb on Skyros (Effie Sapouna-Sakellaraki) ; A new Geometric amphora in the Benaki Museum (Nota Kourou) ; The orientalising period in Macedonia (Stephi Korti-Konti) ; East Greek and related pottery at Harvard (Eleutherios Yalouris) ; Rizari, a cemetery in Chios town (Anna Lemos) ; A skyphos by the Affecter in Athens (Maria Pipili) ; An early Attic Ionic capital and the kekropion on the Athenian Acropolis (Manolis Korres) ; A new Aphrodite for John (Angelos Delivorrias) ; Helen, the seductress? (Anthi Dipla) ; Herakles and a "man in need?" (Marilena Carabatea) ; Kraters, libations and Dionysiac imagery in early south Italian red-figure (Maria-Christina Tzannes) ; A symposion scene on an Attic fourth-century calyx-crater in St.
Petersburg (Thaleia Sini) ; Eleusinian iconography (Michalis Tiverios) ; Reflections on the Piraeus bronzes (Olga Palagia) ; Greek gem-cutters in Babylonia and beyond (Dimitris Plantzos) ; Spoons in the Greek world (Eleni Zimi) ; Greek gods and heroes in Cyprus
Free Home Delivery
on all orders
Pick up orders
from local bookshops