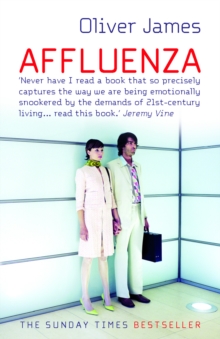 Description
There is currently an epidemic of 'affluenza' throughout the world - an obsessive, envious, keeping-up-with-the-Joneses - that has resulted in huge increases in depression and anxiety among millions.
Over a nine-month period, bestselling author Oliver James travelled around the world to try and find out why.
He discovered how, despite very different cultures and levels of wealth, affluenza is spreading.
Cities he visited include Sydney, Singapore, Moscow, Copenhagen, New York and Shanghai, and in each place he interviewed several groups of people in the hope of finding out not only why this is happening, but also how one can increase the strength of one's emotional immune system.
He asks: why do so many more people want what they haven't got and want to be someone they're not, despite being richer and freer from traditional restraints? And, in so doing, uncovers the answer to how to reconnect with what really matters and learn to value what you've already got.
In other words, how to be successful and stay sane.
Information
Format: Paperback
Pages: 592 pages
Publisher: Ebury Publishing
Publication Date: 27/12/2007
Category: Social discrimination
ISBN: 9780091900113
Free Home Delivery
on all orders
Pick up orders
from local bookshops
Reviews
Showing 1 - 1 of 1 reviews.
Review by dazzyj
16/06/2015
James gropes towards an interesting thesis but ends up losing it in a sludge of boring anecdotal research (some of which is so obviously unrepresentative as to be pointless - how many psychotic criminal billionaires do you meet every day?) and off colour colloquialisms. Instead he finds truisms. Materialism is bad for you. Unrestrained capitalism breeds materialism. If he had truly examined the link (if there is one) between capitalism and societal neurosis, and thought deeply about just how we have got ourselves into this state, he might have had something new to say. Instead this book is just a vehicle for his 60s style psychoanalytical homilies and nurture-over-nature polemics, all served up with some warmed over pieties about how the first three years of life lay the basis for everything that comes afterwards. With some frankly embarrassing political prescriptions for dessert.