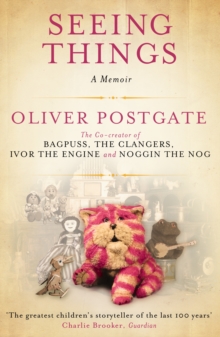 Description
Oliver Postgate is widely regarded as the greatest children's storyteller of the modern era.
His work, which included The Clangers, Ivor the Engine, The Pogles, Noggin the Nog and, most famously, Bagpuss, is beloved by generations. In this delicious memoir Oliver Postgate describes how he came to create his stories and characters, developing innovative techniques of animation and puppetry alongside his friend and co-producer Peter Firmin.
Amazingly, almost all of Oliver's films were made in a cowshed in Kent on a budget of next to nothing. The story of Oliver Postgate's extraordinary and adventurous life, and the wonderful characters who populated it - both real and imagined - is witty, charming, beautifully remembered and exquisitely told.
Information
Format: Paperback
Pages: 464 pages, 16pp b&w images.
Publisher: Canongate Books Ltd
Publication Date: 07/10/2010
Category: Autobiography: arts & entertainment
ISBN: 9781847678416
Free Home Delivery
on all orders
Pick up orders
from local bookshops
Reviews
Showing 1 - 5 of 5 reviews.
Review by eleanor_eader
16/06/2015
Oliver Postgate is one of the recognised fathers of British Whimsy, as entrenched as A. A. Milne or P.G. Wodehouse. His television creations delighted children, who grew up to be adults who <i>remained</i> delighted by them, because they were endearing and memorable. Unsurprisingly, his memoir is equally as endearing, often a bit sad, but a reflection of a life in which confusion and anxiety were the flip side of the marvellous imagination and ability to lose himself in the creation of anything that imagination presented him. Rather than let the reader stumble, unaided and unhappy, through the times where that state of anxiety prevailed, he colours everything in for us; the sometimes isolated childhood, a confusing school experience, a diverse war-time career at home in Britain (putting the 'conscientious' in conscientious objector), a hectic family life, with layers of charming detail. Small anecdotes describe the landscape, making this one of the most gentle and easy-going memoirs I've read, but that's not to say that he was completely unaware of the world's edges. He just made himself very reasonable when pointing them out (a quick visit to oliverpostgate.com givers a slightly schizophrenic feel to the man's interests… 70's children's characters and global politics are a trippy combination). There's a good balance of technical description, career peaks and troughs, family history and, of course, whimsy to Oliver Postgate's memoirs. I am left with a definite impression of <i>liking</i> Oliver Postgate, not just for the wonderfully absurd legacy of the Clangers and their ilk, but for being, the adult version of an early school report comment: 'a loveable wee fellow' with 'delightful manners'.This is automatically one of my favourite 'celebrity' memoirs, if only because Oliver Postgate was (ironically, given his childhood struggle for attention) the antithesis of 'celebrity'… his writing suggests a chap with talent for creation who meandered gently into public perception with a flattered, friendly, and slightly diffident smile, while trying to forge a career out of a head full of ideas.
Review by arkgirl1
16/06/2015
I am not normally someone who makes a beeline for biographies but the life of Oliver Postgate attracted me and I was intrigued to discover the man behind Bagpuss and The Clangers. I wasn't disappointed; this is a riveting read that grips from the start and I loved it.Oliver Postgate had a fascinating life and the writing style has humour, warmth and is incredibly touching. Postgate has a quirkiness, not surprising to anyone who has watched his 'brainchildren', and he also has a way of engaging you in all aspects of his life from his family life, through his creative inventions and through to the wonderful characters that flow from his vivid imagination.I would recommend this book heartily to anyone who has a love of his characters but even to those who have limited [or no] knowledge of those beloved characters I feel this book would be a joy as he is such a fascinating person and the writing is so evocative.
Review by golux1
16/06/2015
I came to this at some disadvantage because I didn't grow up with Bagpuss or Noggin the Nog and only knew Ivor the Engine and the Clangers when grandparents got them for my children. I was completely entranced by Postgate -- artist and mad inventor, pacifist and collector of old cars, houses, you name it. Wildly eccentric in the very best sense of the word.
What the autor is calling a series of accidents is to the reader a story entertainingly written. Full of humour, witty comments and glimpses of the past you never dreamed of.This book is a real find. A nice companion for dark winter evenings.
Review by tcarter
16/06/2015
I received this book, which I doubt that I would ever have bought, through the LibraryThing Early Reviewers initiative. I am so glad that I did. This book is an utter delight. It is well written, insightful and reflective. It moves between autobiography and a recounting of tales of the characters that Oliver Postgate created with effortless ease.I loved the self-deprecating tales of inventions and creativity, the self awareness that allows us an insight into the inner workings of the mind and soul of this genius. I was moved by the descriptions of the emotionally difficult times in the author's life, because they were not overwritten or over wrought, but because of the openness and transparency of the story that meant that I came to care about the hero, and feel what he felt.A beautiful book, one that has made me want to go our and track down copies of Ivor the Engine, Bagpuss, Noggin the Nog, and the Clangers and watch them with my children. I think that we will all be enchanted and delighted, as I was to read this autobiography.