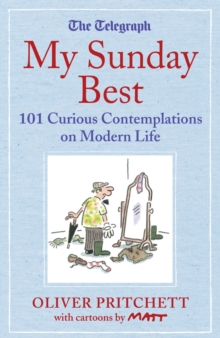 My Sunday Best : 101 Curious Contemplations on Modern Life - the Telegraph
Hardback
Description
A witty compendium of musings on modern life from two of Britain's best-loved humourists: Oliver and Matt Pritchett.
Ever unafraid to tackle the great matters of the day - and even more at home in the company of the apparently trivial - he might lament the lost art of how to end a tedious phone conversation, report on his investigations into the world's 'superfruits', or answer such a pressing question as, How does one spot a Bank Holiday?
Why do we clap at things that don't need applause? or, What is the correct protocol should Prince William land a helicopter in one's garden?
Anthologised for the first time, and illustrated by his son Matt's brilliantly witty cartoons, Oliver's writings reflect upon just how quaint, odd and beautifully absurd life is.
So we invite you to sit back and enjoy this whimsical and comical collection of curious contemplations, which quite simply, well, 'Just occured to me...'
Free Home Delivery
on all orders
Pick up orders
from local bookshops