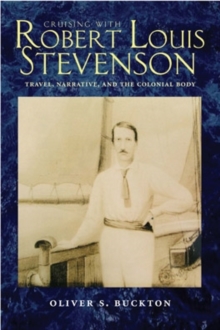 Cruising with Robert Louis Stevenson : Travel, Narrative, and the Colonial Body
Hardback
Description
Cruising with Robert Louis Stevenson: Travel, Narrative, and the Colonial Body is the first book-length study about the influence of travel on Robert Louis Stevenson\u2019s writings, both fiction and nonfiction.
Within the contexts of late-Victorian imperialism and ethnographic discourse, the book offers original close readings of individual works by Stevenson while bringing new theoretical insights to bear on the relationship between travel, authorship, and gender identity. Oliver S. Buckton develops \u201ccruising\u201d as a critical term, linking Stevenson\u2019s leisurely mode of travel with the striking narrative motifs of disruption and fragmentation that characterize his writings.
Buckton follows Stevenson\u2019s career from his early travel books to show how Stevenson\u2019s major works of fiction, such as Treasure Island, Kidnapped, and The Ebb-Tide, derive from the innovative techniques and materials Stevenson acquired on his global travels. Exploring Stevenson\u2019s pivotal role in the revival of \u201cromance\u201d in the late nineteenth century, Cruising with Robert Louis Stevenson highlights Stevenson\u2019s treatment of the human body as part of his resistance to realism, arguing that the energies and desires released by travel are often routed through resistant or comic corporeal figures.
Buckton also focuses on Stevenson\u2019s writing about the South Seas, arguing that his groundbreaking critiques of European colonialism are formed in awareness of the fragility and desirability of Polynesian bodies and landscapes. Cruising with Robert Louis Stevenson will be indispensable to all admirers of Stevenson as well as of great interest to readers of travel writing, Victorian ethnography, gender studies, and literary criticism.
Free Home Delivery
on all orders
Pick up orders
from local bookshops